We have Dogtown Pizzas (cheese, and several varieties with toppings available).  Even the best frozen pizza is improved with the addition of fresh ingredients, and perhaps a little extra cheese. Mmm hmmm.
You can also try Mr. Meowski pizza dough made with local organic whole wheat (defrost, roll it out, and go).
Or just use the Cham pita for a ready to go crust, like we did.
We topped our Cham Pita with Ozark Forest Pesto and Oyster Mushrooms, Home-roasted onion and garlic, Marcoot Aged Provolone and Blue Heron Fire-Roasted Jalapenos, then baked it for 10-12 minutes at 400F and topped it with some Circle B Bacon bits. Perfection!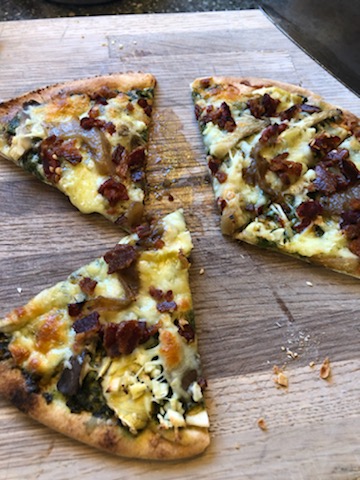 Here's what else sounds good to us:
Circle B Sweet Italian Sausage
Ozark Forest Sun-dried Tomatoes
Ms. Betty's Tarragon Pickled Peppers
Ropp Tomato Basil Cheddar and Marcoot Cave Aged Alpine
Fresh Basil, if you can get them
Be creative or be lazy–it's going to be delicious.