Fair Shares distributes a wide variety of food—both staples for your family dinner, and other produce that you might never have tried before. Check out some of our recipes to see how you could use that food. Or ask us during pickup, because we love to talk food!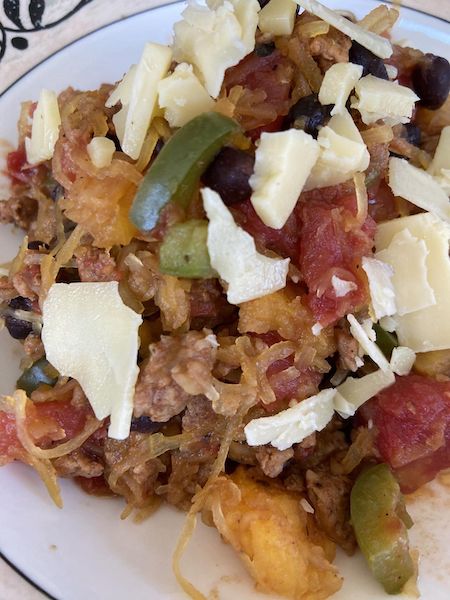 Spaghetti Squash with Chorizo and Black Beans
Remember all that spaghetti Squash I cooked? Here's what I did with the other half of it. This was just as easy as the pesto and even better: it's a one pan meal!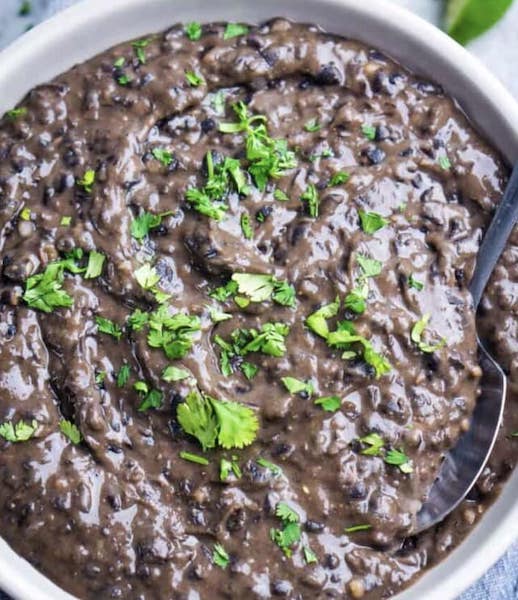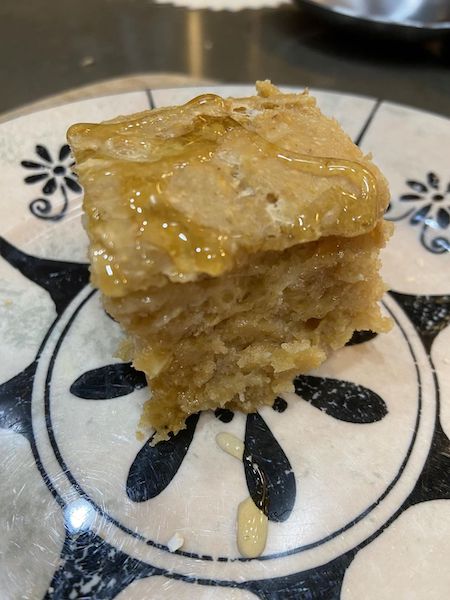 I have been wanting to make something like this for a while, but every time I found a recipe it had a ton of butter on it. I swapped a few things in a recipe and not only did it work, but the crumb is perfect.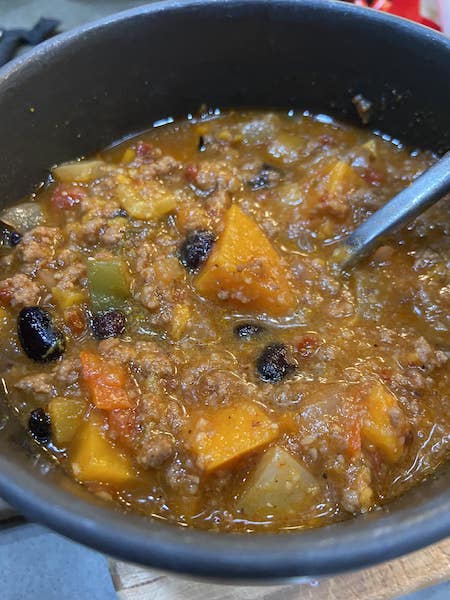 Two-Meat Chili with Black Beans and Roasted Sweet Potato
This may be my best chili recipe! While reading several chili recipes I saw one author state that 3 tbsp cornmeal and 1 can of beer gave their chili thickness and depth. They were correct!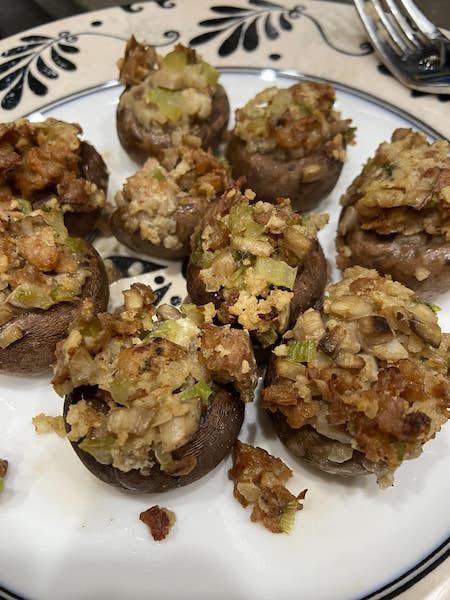 I always trying new ways to use veggies in my fridge. I had a lot of cremini mushrooms so I decided to stuff them with Fair Shares ingredients.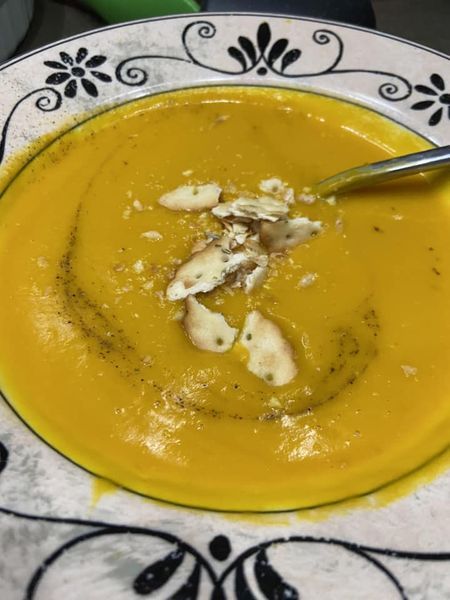 Slow-Cooker Kabocha Squash Soup
Wow this was easy!! All I did was cut 2 squash in half and scoop the seeds out. Then I Jenga-ed the pieces in my slow cooker.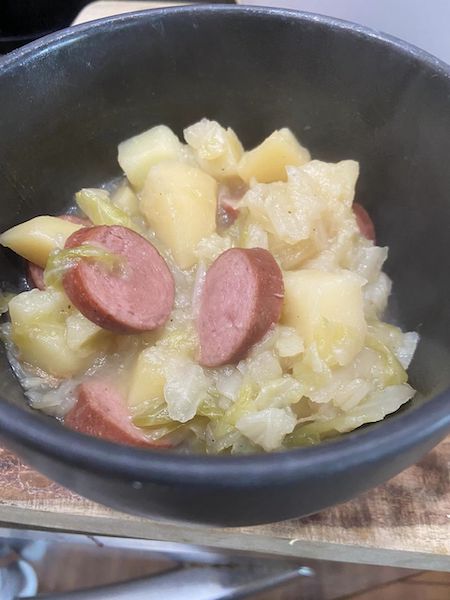 Cabbage, Potato, & Polish Sausage One Pot Meal
AKA one of my fave comfort meals of all time! Sometimes I forget about veg in my fridge. I found a cabbage that had been in a drawer for a while and then thought about the potatoes staring at me growing extra eyes all I needed was an onion, polish sausage, and a bit of chicken broth to make this dish.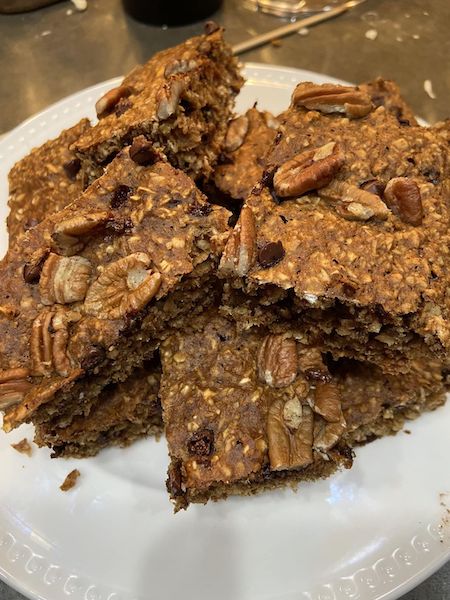 These are not super sweet so they are perfect for an on-the-go breakfast. They are great for other times in the day as well.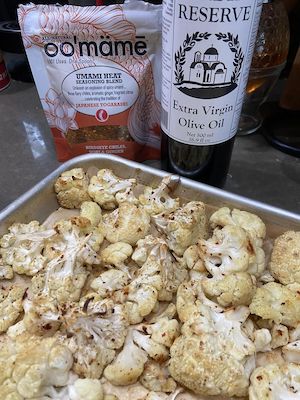 This is super easy and very versatile. You can use different seasonings but seriously, when you can get this amazing seasoning in your share, what are you waiting for? I'm gonna put this stuff on everything!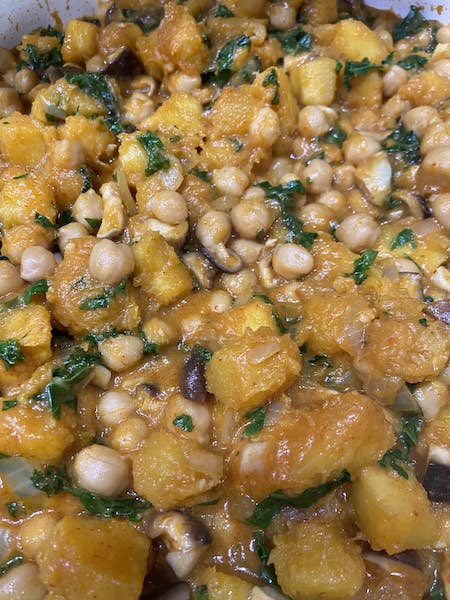 I was making a Dogtown Pizza the other night and decided to roast the squash at the same time and it worked beautifully. You can use any winter squash here.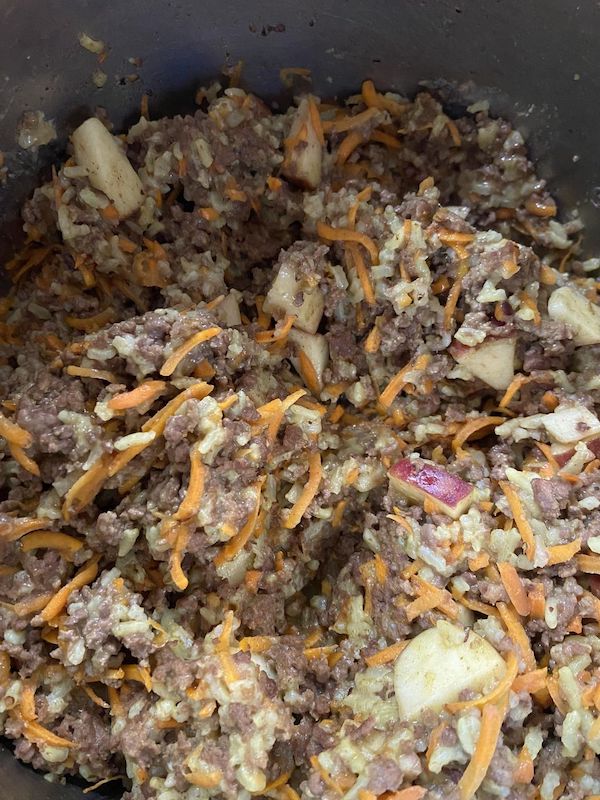 Homemade Healthy Dog Food
Yep! You heard that right. We feed ourselves wholesome food so why not give the best member of the family the same using Fair Shares ingredients. It's easy, delicious, and so much cheaper than store-bought.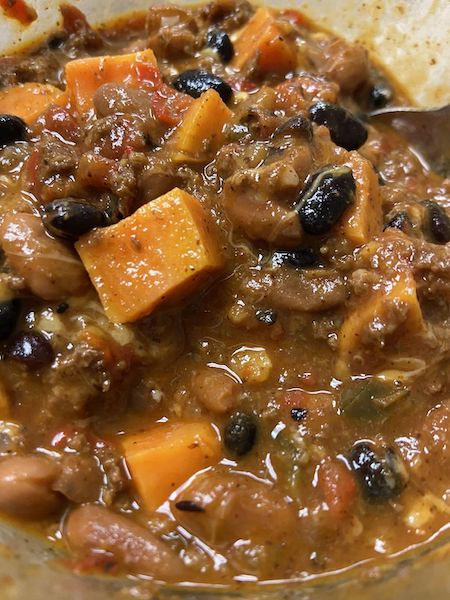 Roasted Sweet Potato Chili
Roasted sweet potatoes are the best addition to chili! The sweetness of the potatoes makes the spicy of the chili really pop, and the texture is a great addition. And the color--come on!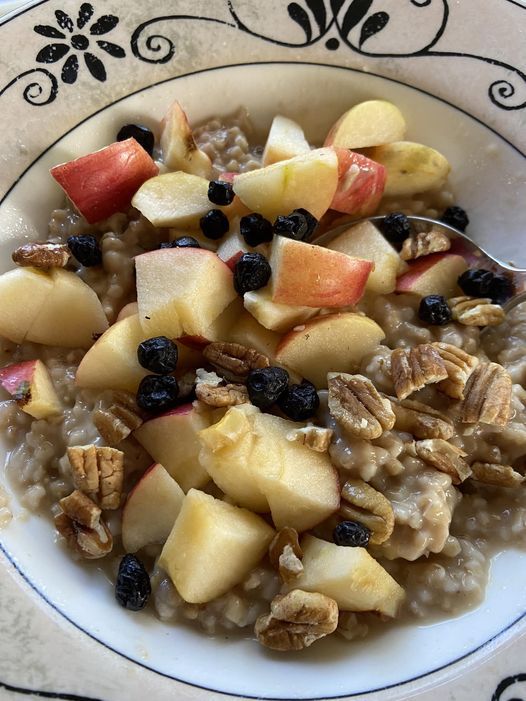 Breakfast of champions! Who doesn't love a great bowl of oatmeal when you can add so much good stuff to it? I always make enough oatmeal for several days and just refrigerate it.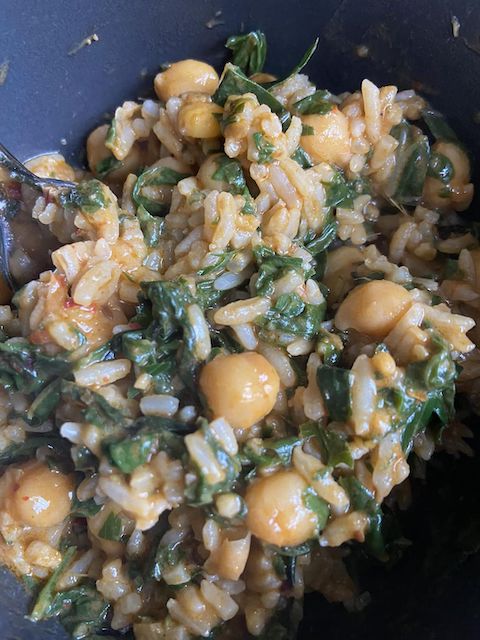 Sometimes the simplest meals are the best. Clean Plate Pantry's Thai Red Curry Sauce is a staple in my house. I had a lovely bunch of rainbow Swiss Chard and parsley so I chopped them up together and grabbed my curry sauce.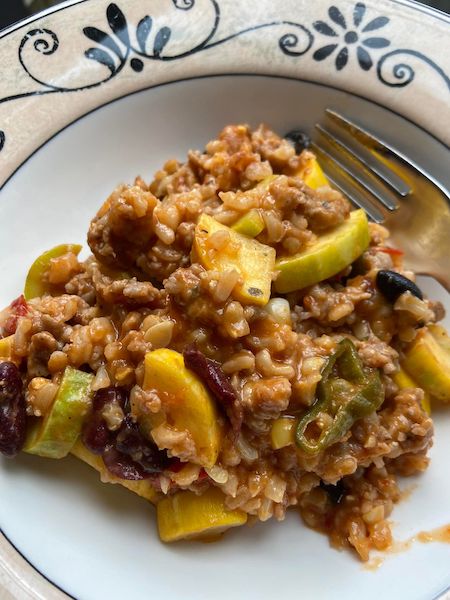 Here's another dish that's really versatile. I had a big zephyr squash so I chopped that up to add. You can add Zucchini, broccoli, peppers, tomatoes, or spinach/kale/Swiss chard.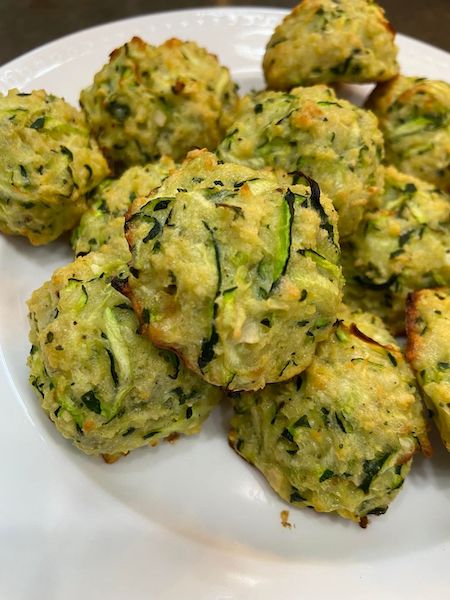 These were so easy to throw together and they taste great dipped in pizza sauce!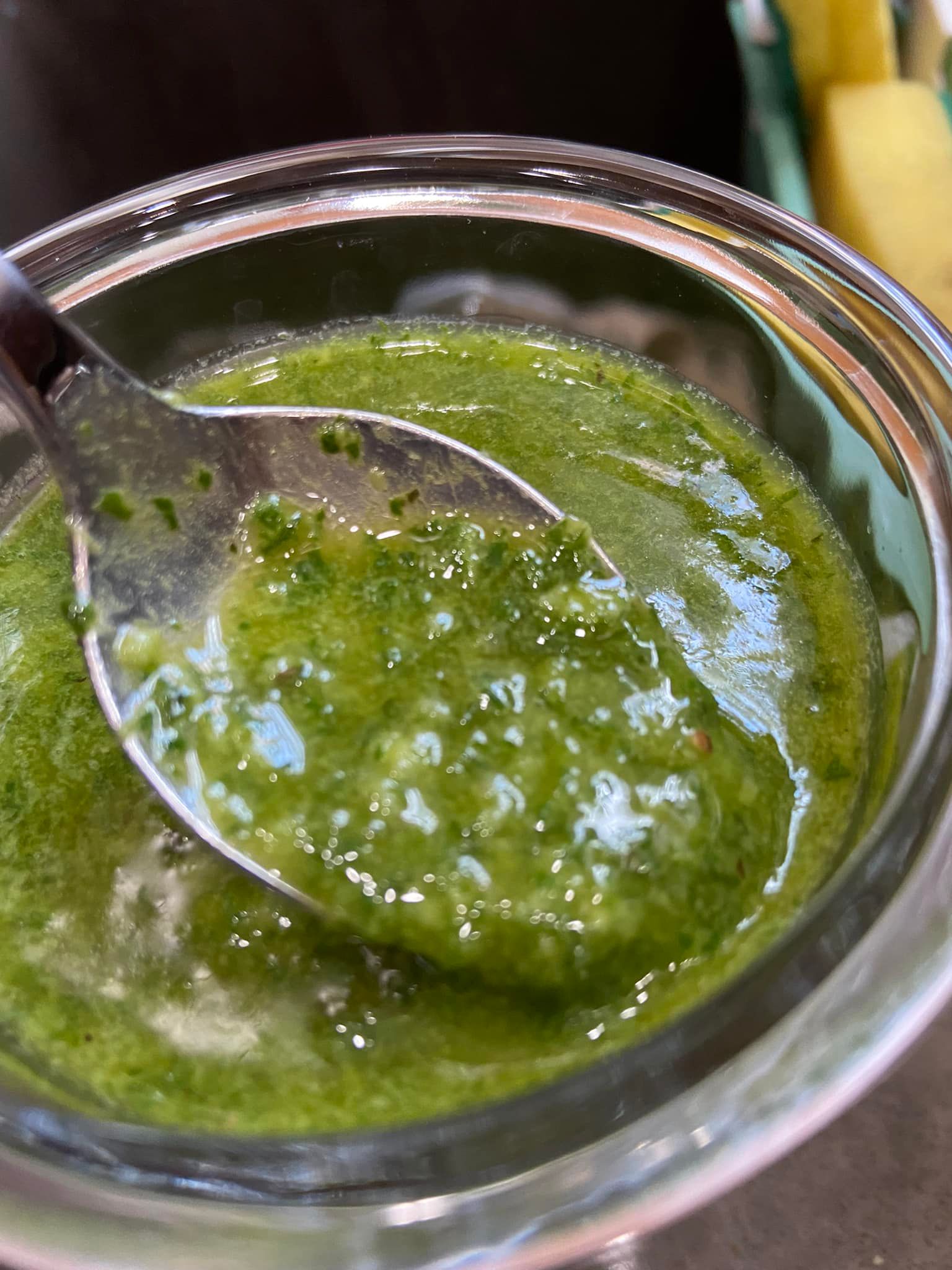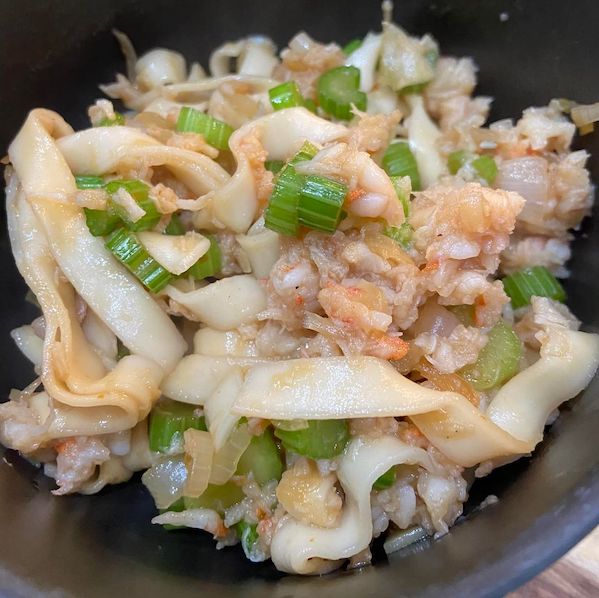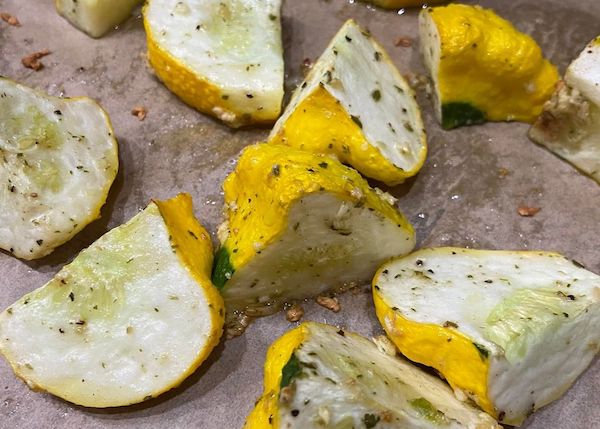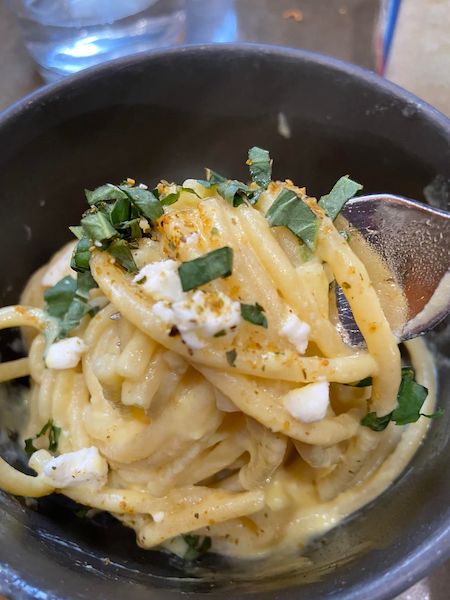 Creamy Corn Bucatini Pasta
This dish was made for corn season! It's easily adaptable to play up or down the sweet corn flavor.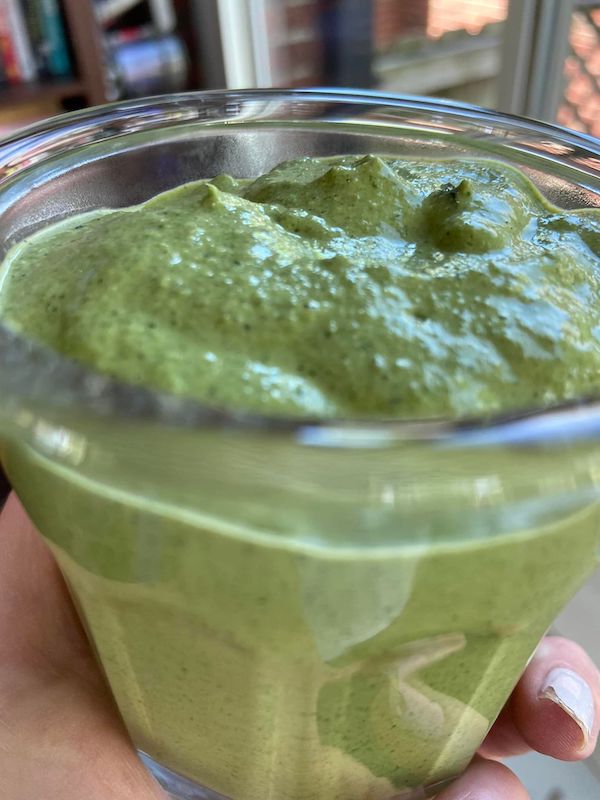 This recipe is super versatile. You could make it just like a pesto and sub carrot tops for basil. I played around with it a bit because I'm using it as a dressing for bowls I'm making ahead for meal prep.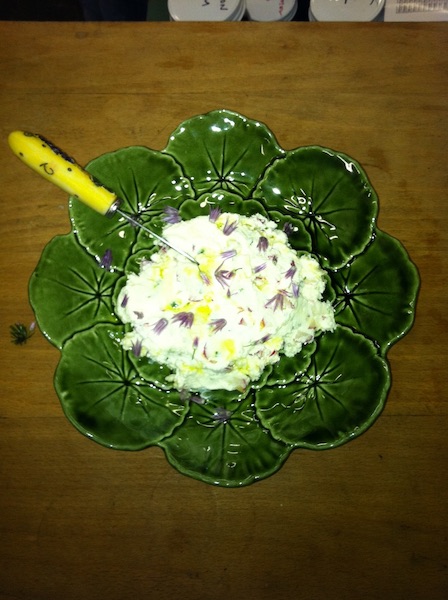 If you find yourself with more milk than you're able to use or if it starts to go past delicious and you hate to waste it, make up this easy ricotta cheese.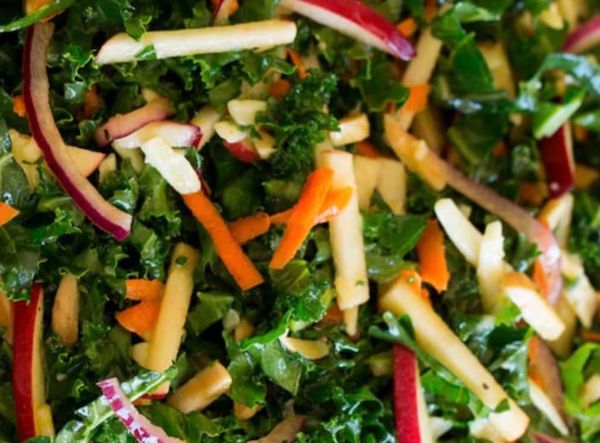 I love salads that you throw together and they actually taste better the next day, and the day after that. This is a great one.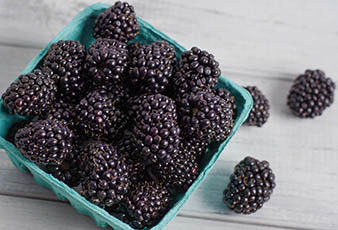 Blackberry Cocktail or Mocktail
I love blackberries but don't like the seeds. I also love cocktails so this was a great idea to use my blackberries to make a syrup. It's super easy.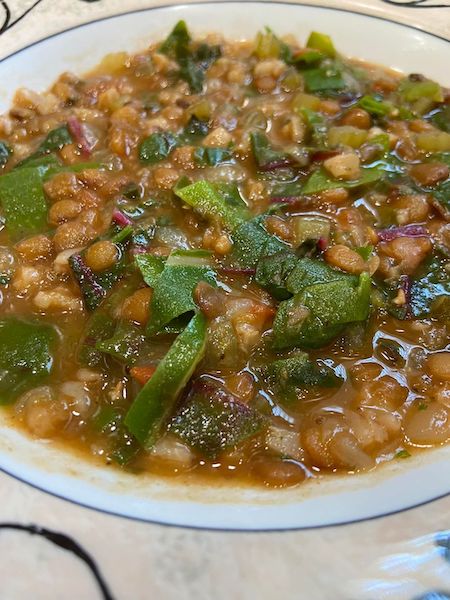 Mediterranean Lentil Stew with Swiss Chard
Who says stew is for winter? This is fresh tasting and light thanks to folding in the Swiss chard at the end and a squeeze of fresh lemon juice. This might be the perfect summer alternative to salad!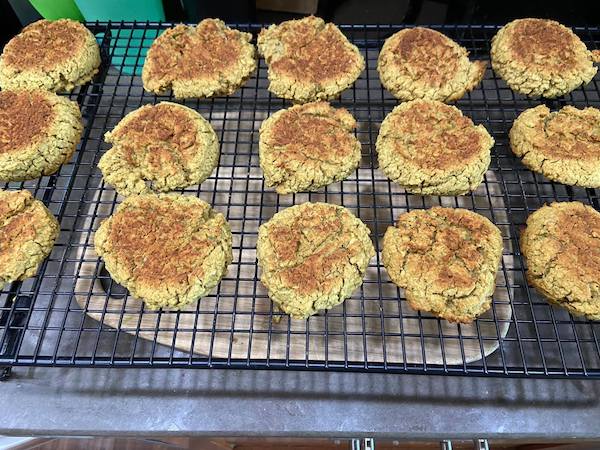 Beth Sorrell's weekly recipe For those of you who haven't used up those scapes yet.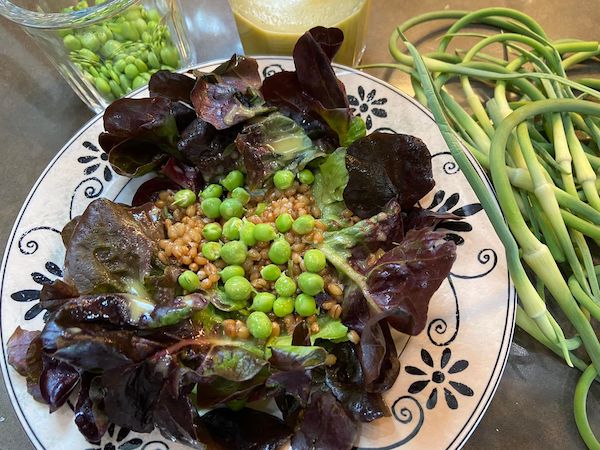 Salad with wheat berries, fresh peas, and garlic scape vinaigrette
We've been getting such delicious lettuce the last several weeks and I am so excited it's garlic scape season! I love making a simple vinaigrette with them. It's also pea season so why not add some of these sweet peas to the salad.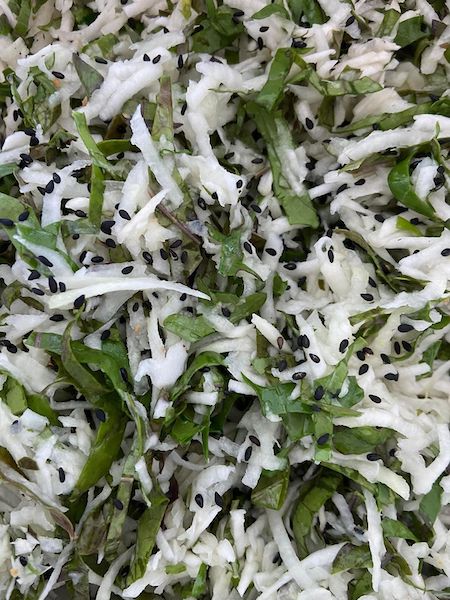 Kale, Kohlrabi, and Japanese Turnip Slaw
Beth Sorrell's Week 11 recipe is ideal for the season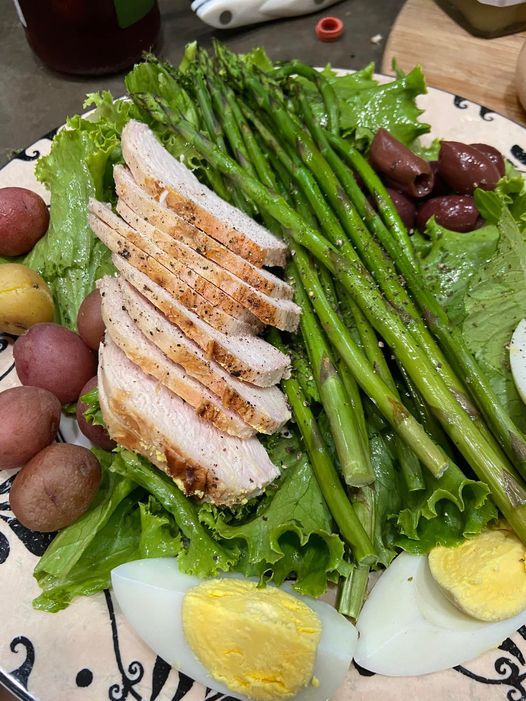 Fair Shares Niçoise Salad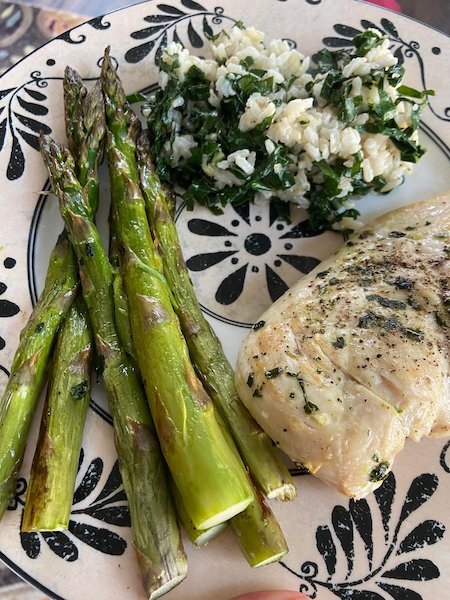 Sheet Pan Chicken and Asparagus with Kohlrabi Greens Rice
I love simple dinners. This was a really good one. I've never cooked with kohlrabi before, I just peel and slice or grate the bulb part and toss the greens. This was a great way to use the greens. I'm saving the bulb for a salad later. Stay tuned for that.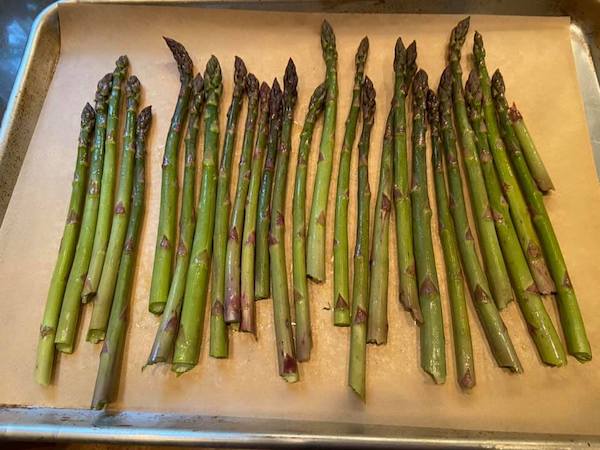 Roasted Asparagus with Mojo
Mojo is an easy flavor punch to add to your roasted asparagus. If you haven't tried the citrusy, garlicky sauce, often referred to as Cuban barbecue sauce, now is the time to put this Del Carmen delight in your shopping cart, whether "Del Carmen Choice" is on your weekly menu or not.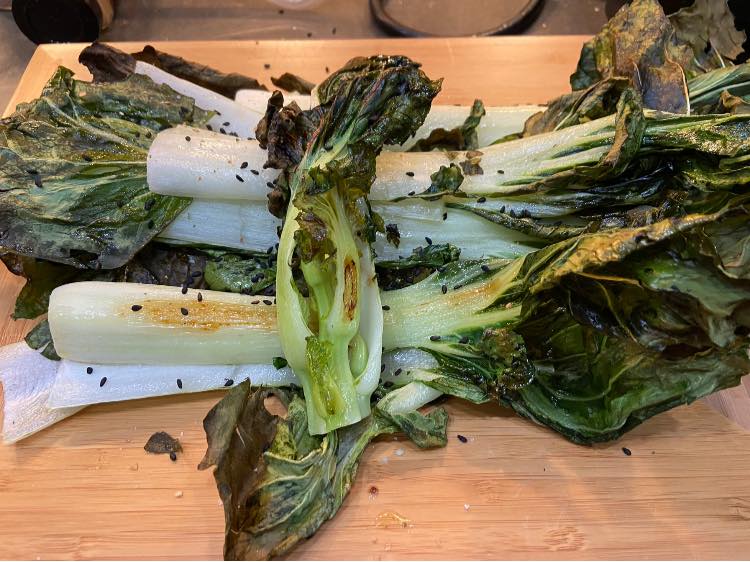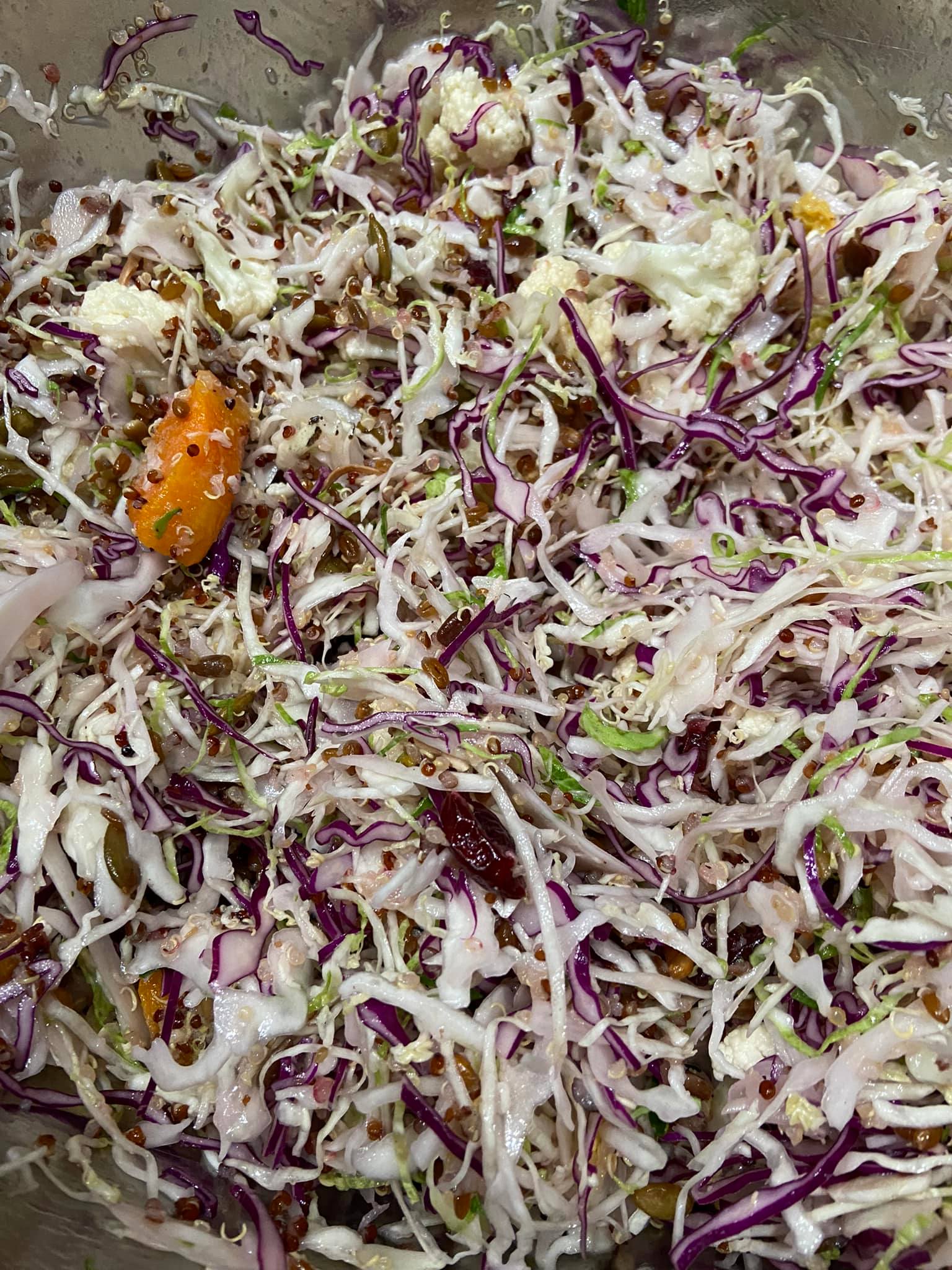 If you haven't tried Field To Fire's Quinoa Crunch Salad yet, you are missing out! This stuff is great on its own, but if you add it to a chopped salad or slaw, you just ruled meal prep!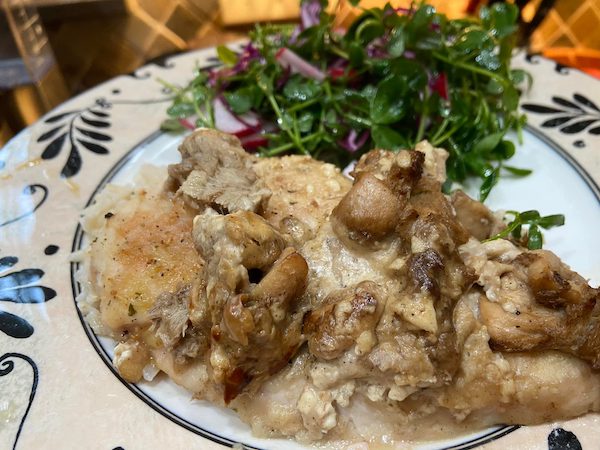 Chicken and Mushrooms with Brown Rice and Pea Shoot Salad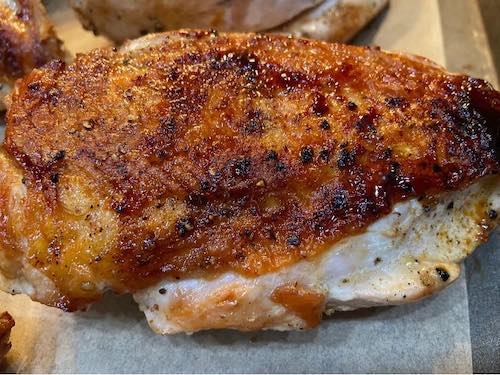 Pan Roasted Skin On Chicken
This is simple and delicious! The best part about getting chicken breasts from Fair Shares is that they come boneless but skin on. The skin serves as a natural little blanket that keeps all the moisture in.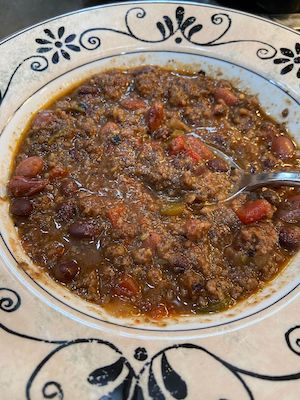 I had mushrooms in the fridge and forgot about them. They got a bit slimy so I chopped them in my food processor and folded them into the best chili I've made in a while! I got the idea from making blender burgers.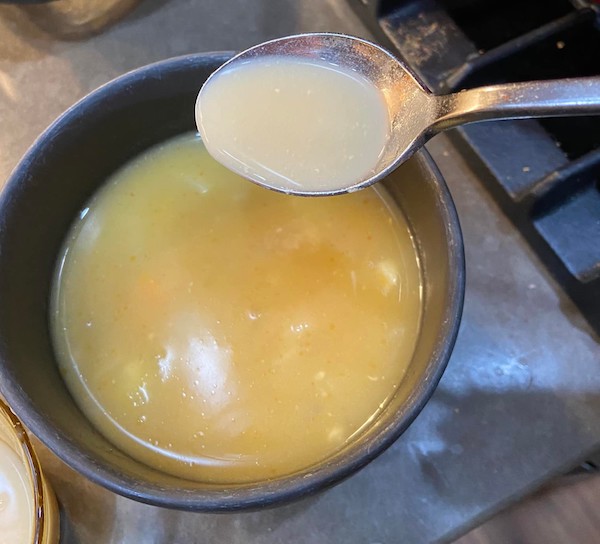 This year I'm focusing on my microbiome. The microbiome is our gut bacteria. We all have many strains of 'good' bacteria that keep our cells functioning optimally and our hormones in check. It's kind of a domino game inside our bodies.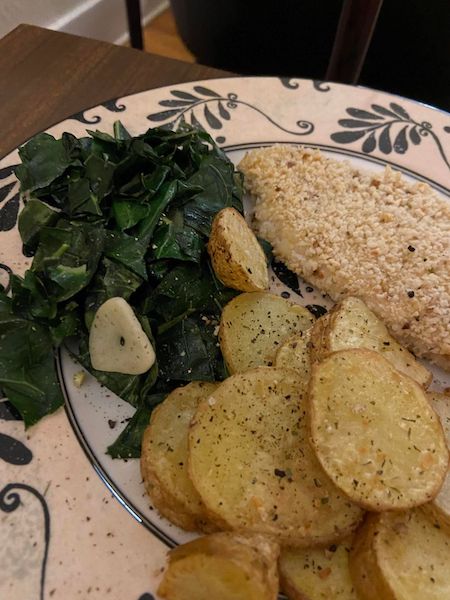 Winner Winner Chicken Dinner
This chicken dish is so good and easy. I'm making it for Christmas dinner. You can add grated Parmesan to the panko if you want. Or sesame seeds, or some finely chopped pecans. It goes together very quickly and the chicken stays moist without brining or pounding.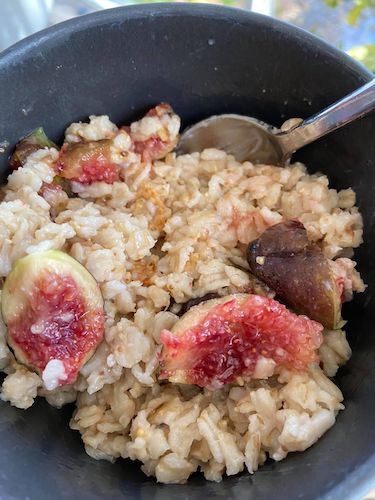 Peanut Butter & Jelly Oats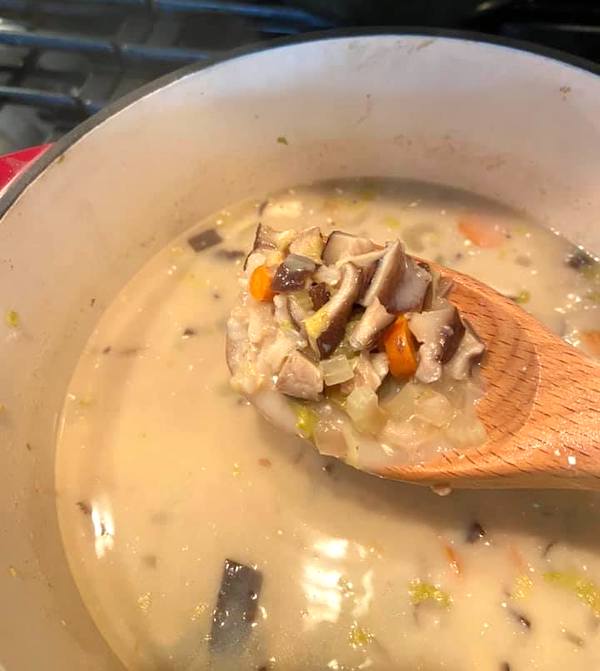 It's soup season! Today I made a mushroom and brown rice soup with a few items I had handy. The best thing about soup is that almost anything goes.
No recipes match