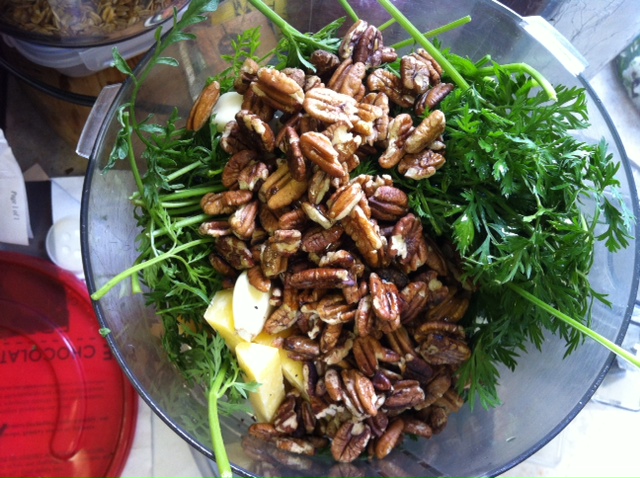 Nobody could believe this was carrot tops–yeah, the ones that usually end up in your compost instead of your chicken broth. Use as a dip for veggies (like the carrots whence the greens came), a spread for crackers, or toss over pasta, meat, fish, rice, etc. An easy, basic pesto recipe that replaces the basil with carrot tops. Simply delicious.
Preparation
Ingredients:
1 bunch carrot tops, rinsed, icky leaves and largest stems trimmed
1 large clove garlic or a healthy shake of garlic powder
1 scant cup pecans, dry toasted in a skillet (don't let them burn!)
~3 oz. aged cheese, such as Marcoot cave aged Tomme or Heritage
1/4 -1/2 cup olive oil (start with 1/4 c. and add more while processing, to reach desired consistency)
salt to taste

Throw everything in the food processor and process to a paste. Go easy on the salt until you see how much the cheese adds. Bring to parties or serve to your CSA and impress your friends!
​​