Zucchini and Chicken Burgers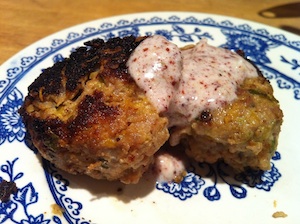 Fair Shares member Joanne McAndrews sent along a recipe she found that offers a great way to include zucchini in a non-traditional method: as part of a chicken burger. We've tried this trick with turkey using Ottolenghi's Jeruselem cookbook and had outstanding results! This recipe comes via Parade Magazine from Mostly Plants by Michael Pollan, famed author of Omnivore's Dilemma. 
Preparation
The zucchini really keeps the burgers moist, which is great for notoriously-easy-to-dry-out ground poultry. The addition of onion, basil, garlic, ketchup, Worcestershire, green onion and salt and pepper will add great flavor.
Here's the Parade Magazine recipe link.
If you're interested in the Turkey Zucchini Burgers pictured in this recipe, click here.
8 cups *chicken stock (or vegetable stock)
8 ounces shiitake mushrooms, rinsed, destemmed and sliced thinly
*1/2lb. bok choy, rinsed and thinly sliced cross-wise
*Snow peas or snap peas (I added a handful of snow peas, strings pulled, and wished I'd sliced them in half
1/4 cup rice vinegar, or more to taste *(I think I put 1/2c. or more white vinegar in while making the broth–don't ask)
1/4 cup *Ozark Forest Shiitake Soy Sauce
2 teaspoons ground ginger
1 teaspoon chili garlic sauce *(I used a tablespoon of my Thai garlic chili oil/paste)
1/4 cup cornstarch *I only used about 2T., so it wasn't as thick)
2 large eggs, whisked
8 ounces firm tofu, cut into 1/2-inch cubes *(I used cooked chicken from making my broth)
4 green onions (scallions), thinly sliced *(I used one of the spring onions with the big bulb)
1 teaspoon toasted sesame oil *or more to taste
*Pinch of white pepper