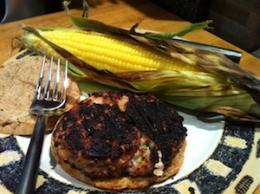 Sometimes inspiration comes from several sources and I'm just unable to choose a direction. This recipe is the result of two delicious things I ate, and they came together in a happy convergence. One was a meatloaf my friend Karen made, and you can find the recipe in her new cookbook Cooking with an Artist. The other was Turkey & Zucchini Burgers from the Yotam Ottolenghi Cookbook Jeruselem, which I wrote about here.
Preparation
Ingredients
1 small-medium zucchini, grated (I used a costata Romanesco)
1 lb. ground turkey (pick your favorite ground protein)
1/2c. granola (I used Companion Cranberry Almond)
1/4 c. onion, chopped
1 jalapeno, chopped, half the seeds and veins removed if desired
1 t. ground cumin
1 large clove garlic, crushed
1 t. paprika
salt and freshly ground black pepper
Preparation
Grate zucchini. Squeeze out and discard excess liquid. Mix all ingredients together and form into patties.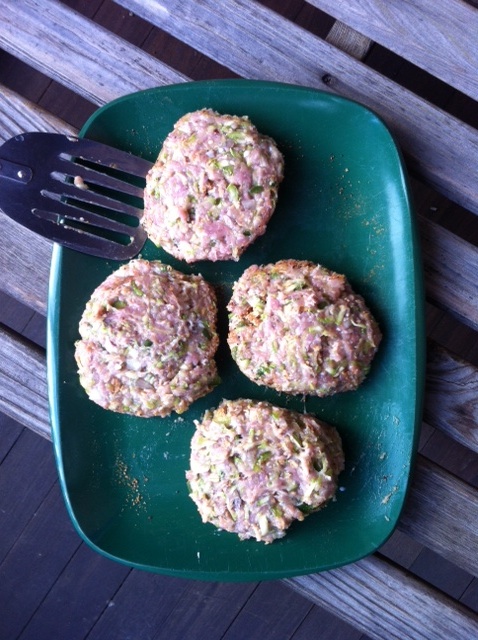 It's going to be sticky. I opted not to add an egg because it was already pretty loose and I was worried adding more liquid would make it fall through the grill. Grill to perfection, along with sweet corn in the husk that you soaked in water for at least 30 minutes. The consistency was perfect, even though we charred them. The squash really helps keep them from drying out.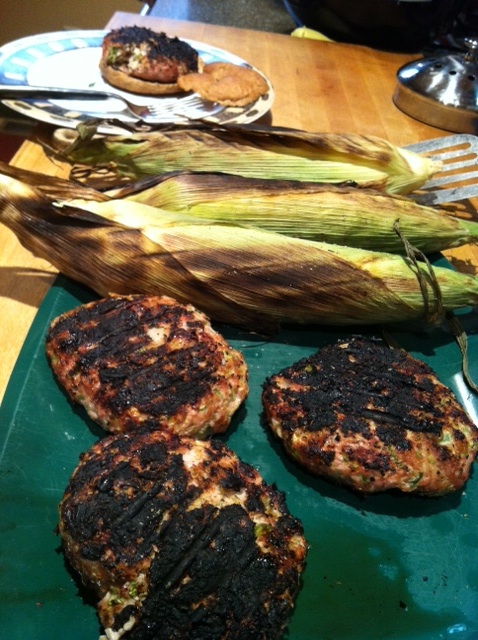 Alternately you may saute the burgers in a skillet in olive oil.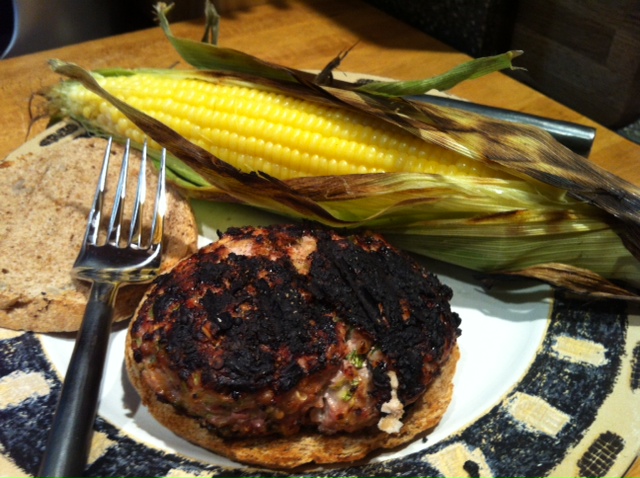 Serve on a bun with your favorite condiments. We weren't sure, so we tried Miss Betty's catsup, Marina's Cranberry Chutney, and a barbecue sauce. The verdict is still out on which condiment went best. Although the burgers were not as spectacular as either of the individual recipes like my mind's taste buds had imagined, they were moist and tasty and worth playing around with, so run with it, baby.