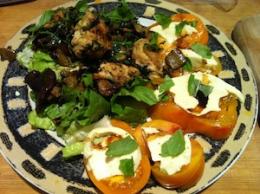 Ground chicken (or any ground protein) seasoned and cooked with mushrooms, onions, peppers and other veggies in a single skillet makes for an easy, no fuss dish. Serve with caprese salad or a starch, if you wish.
Preparation
Ingredients
For the meatballs
1 lb. ground chicken (or turkey, beef, lamb, bison, salmon, or match meat)
1 clove fresh garlic, squeezed
spices to season (I used salt, pepper, cayenne, cumin, turmeric and cinnamon)
For Veggies
1 bag shiitake mushrooms, destemmed, rinsed and broken into bite sized pieces
1/2 to 1 onion, chopped
1 sweet pepper, any variety, chopped
1 to 2 cloves garlic, peeled chopped
1 jalapeno, chopped fine (remove seeds and veins if you don't want it hot)
1/2 to 1 eggplant, peeled if desired and chopped
1/3 bag pea shoots, rinsed
Olive oil or coconut oil, for sauteeing
Salt and pepper to taste
Mix meatball ingredients with hands and form into balls or mini patties (12 to 16 per pound).
Heat a thin layer of oil in a skillet over medium high heat and add the onions. Saute a few minutes and add peppers, eggplant, garlic and mushrooms, salt and pepper. Saute about 5 minutes. Stir well and move veggies  to outside of pan. Add more oil if necessary and add chicken patties to the pan. Cover and let cook 8-10 minutes, until golden brown. Turn and move veggies around to prevent burning. Cook about 5 more minutes and add pea shoots. Replace the cover and cook until done.