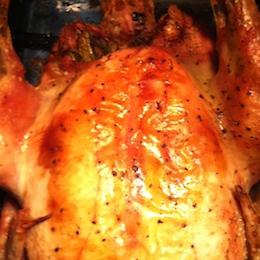 This is a contribution from member Todd Eller: Julia Child once said the true test of any good cook is how well they can roast a chicken.  No offense to Julia but I find it one of the easiest dishes to prepare, full of flavor and endless seasoning possibilities. So this week I give you my roasted rosemary chicken recipe.  Learn this basic way to roast a whole chicken and then trade out the rosemary for any of your favorite herbs and seasonings.
Preparation
The size of the chicken isn't as important as your basic knowledge about timing.  So remember, 45 min plus 7 minutes per pound. In other words a 5lb. chicken takes 45 min plus 35 min to roast. This is for roasting a chicken at 425F degrees for 15 minutes then reducing the temperature to 350. As always check your temperature (165 to 170 in the meat between the thigh and breast).
 
Now, cut the neck out of your whole chicken (put it in a bag in the freezer for stock later). Rinse out the chicken and pat it dry.
 
4 or 5 sprigs of rosemary. Remove the leaves and chop them pretty fine.
 
Add 3 or 4 leaves of chopped sage, salt, pepper and 1 clove of garlic minced. Set aside.
 
On a baking sheet with a rack, place the stems from the rosemary and put the chicken on top of them.  Rub the chicken down with softened butter (give it a good massage).  Take a few extra stems of rosemary with leaves and a couple cloves of garlic and stuff them in the cavity of the chicken.  Now take your rosemary/sage mix and rub it all over the butter massaged chicken.
 
Roast as indicated above. This is EASY and makes a wonderful midweek fancy looking dinner without much fuss.
 
So stock up on those whole chickens and channel your inner Julia. Your family will love it.
Next up: Home-made Chicken Stock