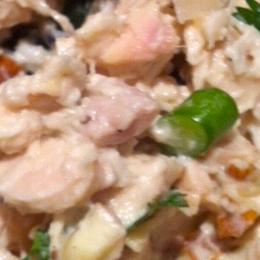 2 cups cooked chicken, cut into chunks (smoked chicken is great here!)
1/3-1/2 cup plain Greek yogurt
1-2 garlic scapes, green garlic or green onions, sliced into 1/4 in. rounds
2-3 T. Georgie Girl spicy relish, or to taste, and maybe a bit more of the juice if the salad is dry.
1/4 cup toasted pecans or almonds, roughly chopped
1/4 cup strawberries, blueberries (or other fresh or dried fruit)
2-4 T. fresh cilantro or other fresh herb, such as oregano or mint
salt and pepper to taste

Mix all ingredients together and serve over a green salad.