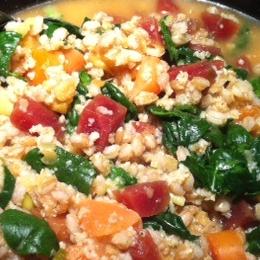 There's just something so satisfying about soup in the cold weather. It warms the body and the soul. And right now, with all the winter root veggies, it's easy to make a hearty, healthy pot full of all-local deliciousness from whatever share you get each week.
Preparation
Ingredients
·         8 or more cups chicken or veggie stock (smoked chicken stock rules) and water, in whatever combination necessary
·         2 cups meat of choice (optional)
·         1 cup uncooked wheat berries, soaked overnight*
·         1 cup uncooked brown rice
·         2 cups uncooked winter squash, peeled and cubed
·         1 share carrots, sliced
·         1 share beets, turnips, parsnips, potatoes or whatever other veggies are lurking in your fridge or pantry
·         1 tablespoon olive oil
·         1 onion
·         1 head garlic (okay, use less if you are so inclined),
·         1 bunch spinach or other greens, cleaned and  cut into bite sized pieces
·         1 tablespoon salt, or more to taste (this is a lot of soup)
·         freshly ground pepper  
1.    Bring broth to a boil in a large soup pot. Add wheat berries (*if you don't soak the wheat berries, put them in the stock and cook for about 25 minutes before continuing as folllows), rice, squash, carrot and any other root veggies you are using. Reduce heat to medium-low, and simmer, stirring occasionally, 20 minutes or until all is tender.
2.    Meanwhile, sauté garlic and onions in hot oil in a medium skillet over medium-high heat. If you are using ground meat, add it here to cook with the onion and garlic. Season with plenty of salt and pepper. When it has suffiently browned and caramelized, and the meat is cooked through, add it to the soup. If you are using smoked or already cooked chicken, add it directly to the soup now, just to warm it.
3.    Stir in greens and serve. Alternately, you can put the greens in a bowl and ladle the soup over so they just wilt.