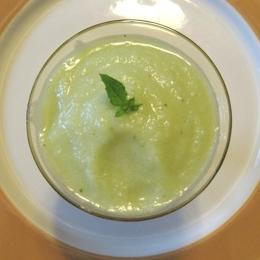 Cool and refreshing!
Preparation
2 cups cucumber,
peeled (if you must) and seeded
1/2 cup plain yogurt or whole milk
3 tablespoons fresh lime juice
1 small jalapeño chile,
seeded and ribs removed
1/3 cup sweet onion chopped
2 tablespoons honey
2 tablespoons fresh cilantro
2 tablespoons fresh mint
2 avocados, peeled and pitted
salt and pepper to taste
mint leaves for garnish
In a blender puree first 8 ingredients. Add avocado and puree until smooth. Taste and
adjust seasonings. If needed, thin with additional yogurt or milk. Chill at least 1 hour
and garnish with mint.