Thai Coconut Winter Squash Soup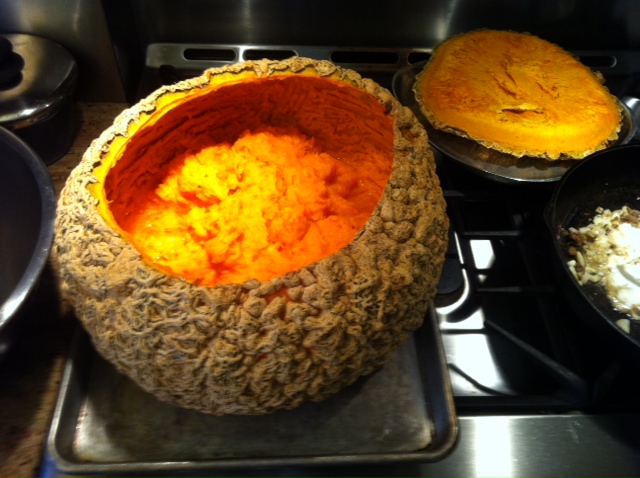 Baby it's cold outside. How about soup? Thai green curry paste and coconut milk, along with cumin, and kaffir lime leaves give this winter squash soup such an alluring aroma, and the sweetness and spicy heat becomes almost addictive.
Preparation
This recipe can be made with any combination of winter squash varieties–the bigger ones are easier, like the giant one we used in creating this recipe post a couple of years ago!
Ingredients
1 25-pound Galeux d'Eysines winter squash (keep in mind the seeds and innards were a lot of this weight)
2 medium onions, finely chopped
1-2T. coconut oil
1/4 c. Thai green curry paste
2 cans unsweetened coconut milk
1-1/2t. cumin seed
6 kaffir lime leaves, minced
3c. chicken broth
Preheat oven to 400F. Cut the top of the squash and scoop out the seedy guts. Bake squash for one hour, or until soft enough to scoop out the flesh (if you intend to serve the soup in the squash, don't scoop out too close to the skin). Include the lid of the squash–there's good flesh on that part, and you'll need the lid for your soup tureen. Scoop the flesh into a soup pot big enough to hold all the ingredients so you can heat it up before serving. Hint: this soup gets better as the flavors mellow and meld.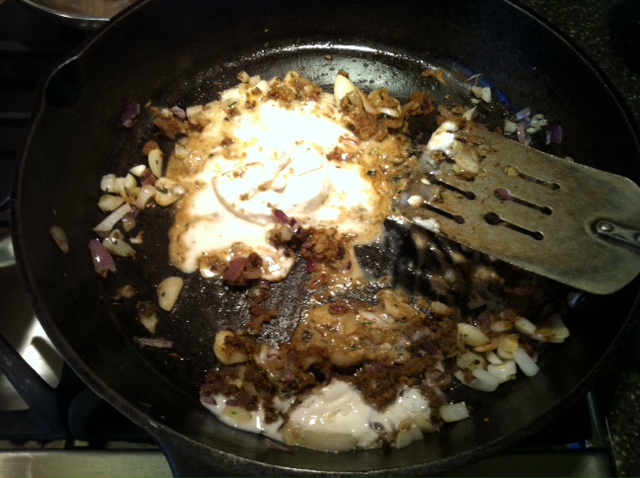 In a big skillet, heat coconut oil over medium heat and saute onions. When they begin to brown, add the curry paste and about 1/2 can coconut milk. Stir until fragrant and well mixed.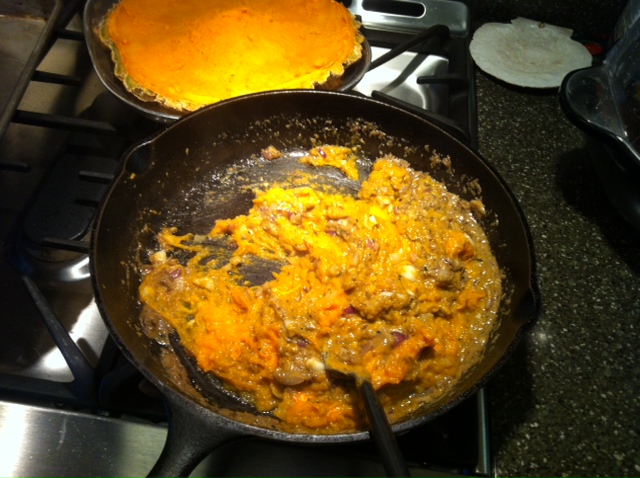 Add cumin, kaffir lime leaves, about a cup of mashed squash, and the remainder of the can of coconut milk. Mix to incorporate, then add to the big bowl or pot of squash.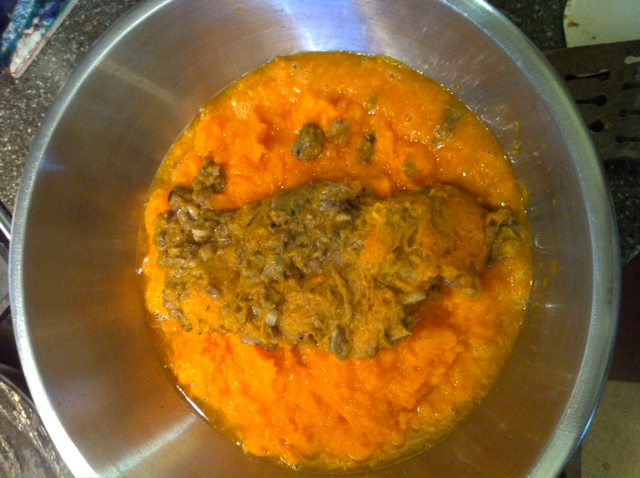 Using an immersion blender, mix while adding in remaining can of coconut milk.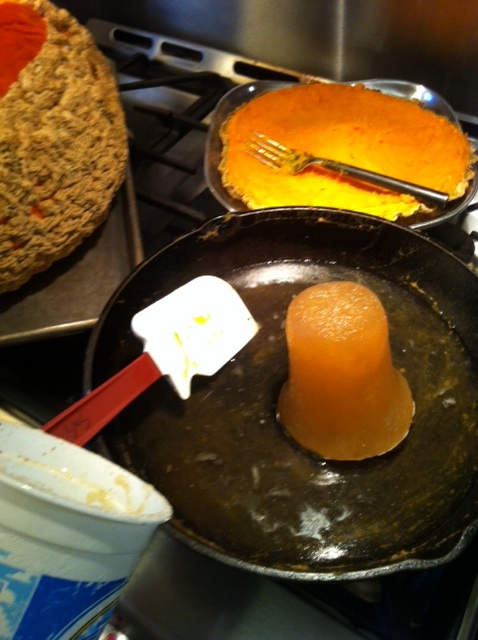 Realize that your chicken broth didn't defrost and heat it up in the skillet. Then add it to the soup, blending with the immersion blender. If you don't have an immmersion blender, you can do it in very small batches in a food processor, but it's very messy and hardly worth it. Go get yourself an immersion blender, and don't skimp because the cheap ones are hardly worth it either.
Check the soup, add salt and pepper and adjust spices to taste. Heat through. Forget to take photos of the beautiful soup in the squash tureen and serve. Act humble when everyone tells you how delicious it is.