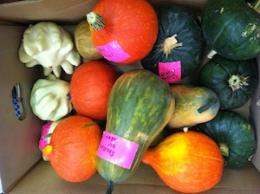 Try this hearty soup will work well with any of the heirloom or more conventional varieties of winter squash we're getting.
Preparation
I'm a lazy cook. I love to eat and I love to cook, but if there's an easy route, I'm taking it. I'll never buy chopped garlic or sliced veggies for a recipe, but cutting a squash in half and throwing it in the oven until it's soft and scoopable, rather than peeling it and cutting it raw is almost always the way I will go. But I admit that there are times when chunks of winter squash are preferred over the soft mushy texture. If it's an acorn squash in my hand, this isn't one of those times. But a butternut squash is pretty easy peeling, so when we get greens back for the fall and a hearty broth soup of chard or mustard greens, cannelini beans and squash is beckoning, make it butternut squash for me. In the meantime, here's a recipe that will work with any of the winter squash we're getting, but this recipe calls for butternut.
Butternut Squash and Roasted Beet Soup
(serves 6)
1 medium butternut squash, halved and seeds removed
1.5 – 2 qt. homemade chicken broth or veggie stock
4 large beets
1/2 tsp. salt
1 tsp pepper
1 t minced onion
2 tsp. garlic
3 oz. chocolate
Directions:
– Pre heat oven to 400F. Place beets and squash halves on an oiled baking sheet. Roast until soft (about 40 minutes to an hour).
– Sautee garlic and onions in a little olive oil until soft. Add broth, salt and pepper and heat through while the veggies roast.
– Test the squash and beets for tenderness (they should be very soft). Use a hand blender and puree squash with half the broth until smooth.
– Peel beets and puree with second half of broth.
– Melt the chocolate in the microwave.
– Pour both soups into one bowl. Add a dime-size amount of melted chocolate to the soup.
– This soup is also great served as an hors d'oeuvre at a cocktail party. For a unique presentation, simply fill espresso cups with a "shot" of soup and pass them around on a tray.
– To save leftover soup, try freezing it in ice cube trays. Then if you want a cup of soup later, you can pop a few soup cubes into a mug and place it in the microwave for a few minutes.
– Other serving suggestions for toppings: dollop of sour cream, drizzle of Kreta Olive Oil, sprinkle of chives, crispy fried onions, bacon or chorizo bits.