Stuffed Peppers with Meat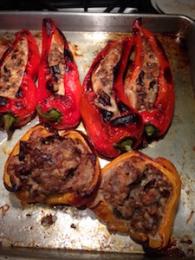 This recipe was created with larger bell peppers in mind, but will work well for other peppers, either hot or sweet, such as corno de toro, ancho and poblano peppers. Go ahead and make extra, so your dreams of more in the future will come true.
Preparation
Preparation
Ingredients:
4 to 6 peppers, de-seeded and halved. If long and thin peppers are being used, slice open the side of the pepper.
Meat mixture 1:
1 pound ground beef
2 eggs
1 tsp. dried basil, or 4 to 6 leaves, chopped
1 tsp. dried oregano or 1 T. fresh
1/4 cup dried bread crumbs
1/4 cup grated hard cheese
1/2 tsp. salt 1/2 tsp. pepper
Meat Mixture 2:
1 pound ground beef
4 eggs
10 leaves fresh basil
1/2 onion, chopped
4 cloves garlic
~8 oz. mushrooms (1 share)
1-1/2 cup grated cheese (choose a couple varieties if you like
1/2 tsp. salt
1/2 tsp. pepper
Topping 1 (to go with Meat Mixture 1):
1 8-oz can tomato sauce (I would cut up fresh tomato or use our jarred tomatoes, naturally)
1 to 1 1/2 cups grated havarti or gouda cheese
Grated hard cheese for topping
Topping 2 (to go with Meat Mixture 2):
It doesn't need additional topping, you just mixed it all into the stuffing!
Preparation:
Pre-heat oven to 350F. Place prepared peppers in lightly oiled baking dish* cut side up.
*If you are using variation 1, you can arrange the peppers on an ungreased baking pan, as shown below.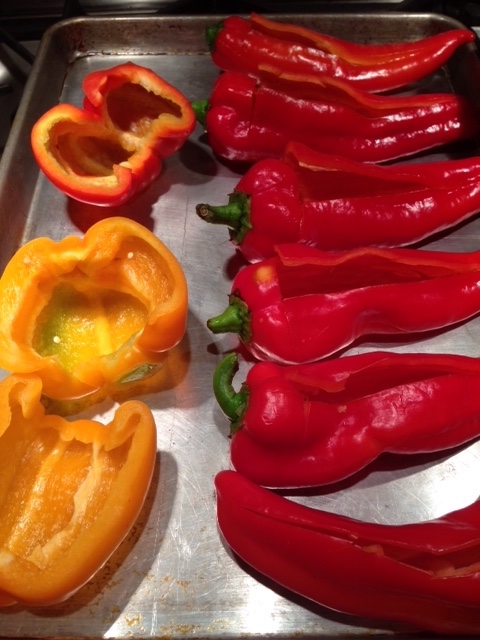 Mix together the ingredients for either of the two meat stuffing variations.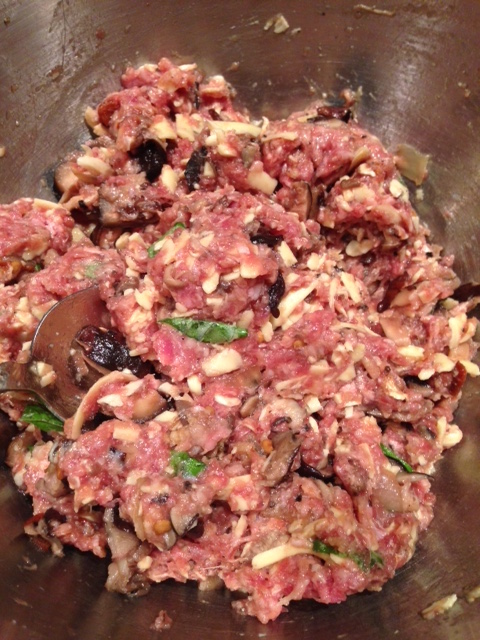 Stuff into the peppers, packing well. Adjust amount to fill all peppers. (For children or adults not fond of peppers, form the meat mixture into a ball and place it in the baking dish without the pepper.)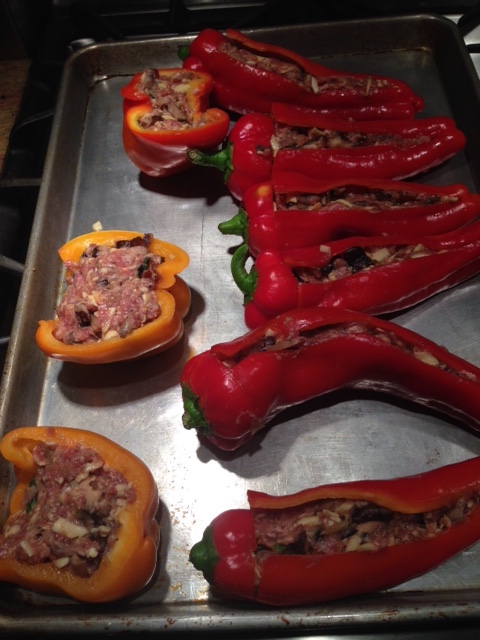 Pour the tomato sauce over the stuffed peppers until covered. Add salt and pepper. Sprinkle melting cheese evenly over the peppers, grate hard cheese over dish. Bake for one hour. Cover lightly if cheese begins to get too brown.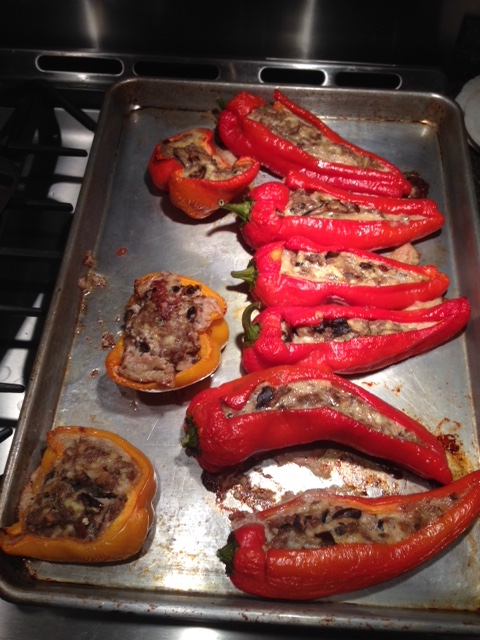 If you need to brown the top a little more, you can put them under the broiler. Serve peppers with rice on the side, topped with baked tomato sauce. Add different herbs and sauces to change the flavor.
For variation add a combination of ground lamb and/or ground pork with or in place of the beef. The meat may be formed into small meat balls, baked in the oven on a jelly roll pan and added to a pasta sauce. They also freeze well.