Lamb and Rice Stuffed Peppers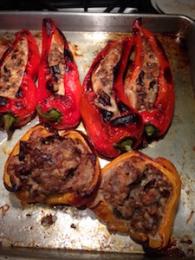 With colored peppers in season and lamb in ready supply (we bet this would be delicious with the gyro meat), it's time to get out the stuffed pepper recipe…
Use the hot peppers to add a little zing.
Preparation
Ingredients
4-5 Sweet Peppers, halved and seeded
1 c. rice
1 T. olive oil
1 sm. yellow onion
2 cloves garlic
1 lb. ground lamb
1-2 T. herbs de Provence
1c. tomato sauce
salt and pepper
8-10 oz. cheese of choice
Prepare one cup of dried rice according to the method of your choice.
 
In a non stick skillet, heat 1 tbsp of olive oil and sauté for 3 minutes: 1 small, diced yellow onion.  Add 2 minced cloves of garlic and continue to cook for 2 minutes. Add the ground lamb, 1 tablespoon or so of Herbs De Provence and cook until well browned. Add ¼ cup of tomato sauce and salt/pepper to taste. Stir in the cooked rice and mix well.
 
This will fill 4 or 5 peppers that have been prepared. Fill each pepper with the filling, top with 2 tablespoons of tomato sauce. At 400 degrees bake for 25 to 35 minutes or until the peppers become tender. Top with a slice of Marcoot Mozzarella, Gouda, Havarti or Scamorza and return to the oven until the cheese is melted, golden and bubbly.
 
Enjoy!