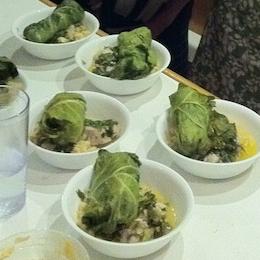 This recipe was made up after the fact, based on very fuzzy recollections from a tropical vacation on a boat several years ago, along with another recipe for Mushroom-Polenta Collard Rolls I found online. I adjusted the recipe based on what we did, as well as can be remembered. What I do remember was that this was delicious. Since we have a variety of greens in the shares, I would say that Swiss chard would make a great substitute.
Preparation
Ingredients:
1 bunch of collards*, stem cut out and blanched (6-8 leaves)
* If using collards, remove stems and set leaves aside. Chop the stems finely so you can saute them with your other vegetables. Don't blanch the chard leaves–they will be tender enough with just the baking.
1-1/2 cups polenta/popcorn cornmeal/bloody butcher cornmeal (cooked in a smoked or jerked chicken broth, or flavorful vegetable broth)
1-2 tablespoons olive oil
1 cup chopped fresh shiitakes
1/2 medium onion, (you can use green onion or whatever alium is in season) chopped
2-3 garlic cloves, minced chopped fresh thyme, oregano or other fresh herb, to taste
1/4 cup grated hard/aged, sharp, salty cheese
1/4 cup melty cheese
This is a good dish to use up leftover bits of meat of cooked veggies, so clean out the fridge!
Instructions: Preheat oven to 350F. Heat olive oil in a medium pan, add mushrooms, onion and garlic and saute a few minutes. Add to cooked polenta, along with cheeses and fresh herbs. Place collard leaf with cut-out stem side facing you and overlap the sides to close up the cut. Scoop 1/4 to 1/3 cup onto each collard leaf, and roll up, tucking sides in as you go. Place all in casserole, cover with a bit more broth, and bake 30-45 minutes. Serves 6 to 8