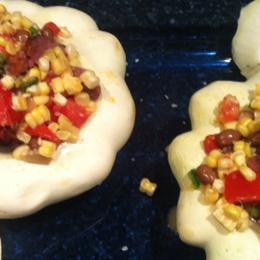 These big white patty pans are so pretty and fun to use.
One thing I learned is that it's important to season the squash well before cooking, or perhaps cook it with a flavorful broth inside. Don't be afraid to season the stuffing heavily as well, so that the flesh of the squash isn't too bland in contrast to the stuffing.
Preparation
Ingredients
2 white patty pans, prepared to be stuffed
1 leftover apple lamb brat, diced
2 ears of corn, shucked from the cob
1 tomato, diced
1/2 jalapeno, minced (it could have used more heat)
1 egg that was cracked and needed to be used, beaten
1 large clove garlic, minced
~1/2 c. beans I cooked earlier
salt and pepper
cheese for melting over the top
Prepare the squash by cutting the top off and scooping out the inside seeds. Save the top for a lid for serving. Season well with salt and pepper, or fill with broth and cook (I microwaved) for five or so minutes. You may decide to cook this longer if your stuffing doesn't need to be baked  (you can cook the stuffing ingredients separately and just stuff it, top with cheese and broil until brown and bubbly).
My stuffing was a bunch of leftovers and things that needed to be used up. We mixed it all in a bowl, stuffed the semi-cooked squash, topped with cheese and baked in a 400F oven for 45 minutes.