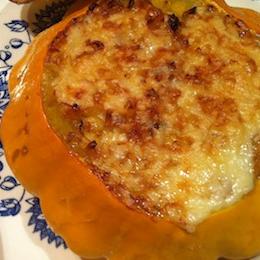 Okay, really there is no end to the number of stuffed squash recipes that may end up on this website. This seems to be the stuffingest summer, what with all the peppers and squash just begging to get the stuffing knocked into them.
The key here is using what's in the refrigerator, and not being afraid to mix it up a bit. Don't worry if a couple of things don't sound like they go together, the broiled cheese over the top will pull it all into one cohesive delicious dish.
This one is pan-fried corn and peppers stuffed in big yellow patty pans. It was so delicious we did another version with a stuffing of hot peppers and corn, along with a bit of veggie roast–tomatoes, garlic, onions and sweet peppers (because the hot peppers were a little hotter than we expected). We stuffed this in the younger patty pans, which are still more of a summer squash. Feel free to include protein–ground meat, bacon, sausage, leftover chicken, tempeh, tofu, etc. to make it a one dish meal. Remember delicata skins are tender enough to eat when cooked, and some of the big patty pans have tender enough skin still, so try it and decide for yourself whether the skin is edible.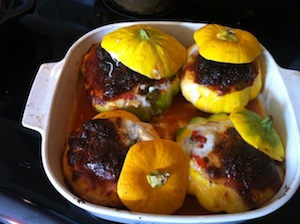 Preparation
Ingredients:
– Squash, prepared for stuffing-one per person (cut larger ones in half, so each person gets their own stuffed section)
– 2 to 4 ears corn, shucked off the cob (figure about 1/2 to one ear per person, but the amount of stuffing needed will really depend on how big the squash are. Err on the side of excess, the stuffing will be delicious to eat on its own, too!)
– Sweet and hot peppers, chopped. The varieties and quantities are entirely up to your tastes, or the content of your refrigerator, but a 50/50 corn and pepper ratio is good.
– 1 medium onion, chopped
– 1-2 garlic cloves, sliced, or chopped if preferred (I like big hunks of garlic)
– Cheese for melting over the top, and if you'd like, add a bit to the stuffing. Use a combo–maybe a creamy cheese inside and a good melty cheese over the top.
– Fresh herbs, chopped. You can add a lot of basil or parsley to the stuffing before filling the squash, or maybe a little thyme, sage or rosemary, or just a little to sprinkle over the plate, but use 'em if you've got 'em!
Peparation:
For the squash, cut off the top and save it for a lid. If it doesn't sit upright on its own, slice a little off the bottom so it will–not too much or it will have a hole and leak out the good juices. Scoop out the seeds with a spoon. If it's young summer squash, you can save it or add it to the stuffing. If it's winter squash, you can clean and roast the seeds to sprinkle over the top, or just compost. You can roast the squash in the oven or steam it on the stove top or microwave. Cook until tender, but not so much that it's losing its shape. Don't forget to cook the lids! (There is more about stuffed squash and suggestions in the other recipe link below).

While the squash is cooking, heat a thin layer of olive oil in a cast iron skillet. When hot, add onion and saute until translucent. Add corn and peppers and allow to cook for a while before turning. You want the corn to char a little, to get the caramelization going. When the browning starts, add the garlic and continue cooking, stirring occasionally, until all is nicely browned.

Pre-heat the broiler, place the squash in a baking pan that holds them snug and upright. Stuff the squash with the filling, top with sliced or grated cheese (think French onion soup) and pop under the broiler until browned and bubbly. Sprinkle with herbs, artfully arrange the lid and serve. Even if it tastes terrible, with that clever little lid and the broiled cheese…it'll be a huge hit.
If you missed the previous stuffed patty pan recipe, here's the link: https://fairshares.org/recipes/stuffed-squash