Simple Winter Squash Soup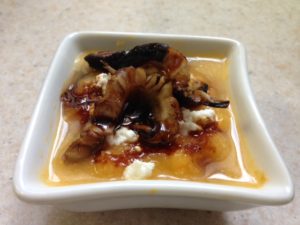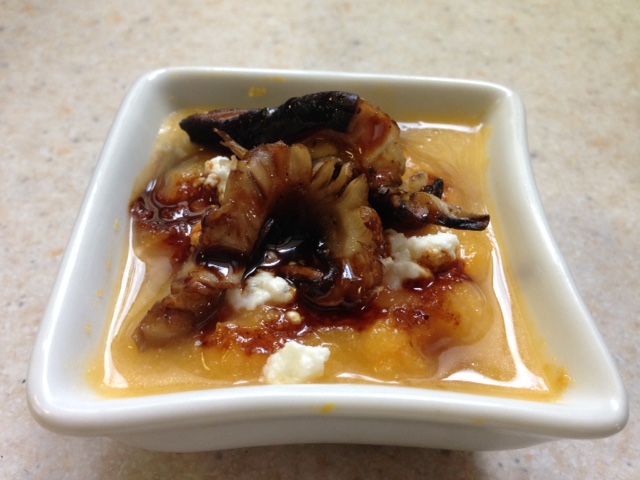 Winter squash is such an easy-going, versatile ingredient, amenable to an amazing array of flavor profiles and cuisines. Sometimes it's difficult to decide whether to go Thai curry or Indian curry, Italian with brown-butter sage, or just make a simple rustic, all-American soup. This soup uses chevre, mushrooms and apple syrup, and is one of those recipes in which the whole is greater than the sum of its parts.
Preparation
Ingredients
This recipe is very forgiving, so use whatever amounts you have and estimate at will.
-4 c. cooked winter squash (boiled, roasted or microwaved until very soft)
-Water or broth to puree to desired consistency (this will depend on the squash you use, start with a couple of cups and add more as needed or desired)
-1 share Shiitake, oyster or wild mushrooms (about half a pound), sliced or torn into thin strips
-3-4 cloves garlic, smashed with the side of your knife
-Olive oil
-1 8oz. tub chevre (I used black pepper chevre from Prairie Fruits)
– Ponoma's Ambrosia (this Blue Heron Apple Syrup, cooked down from apple cider is truly nectar of the gods)
– Salt and Pepper to taste
Cook squash ahead and remove flesh from skins (if you do this ahead, it's simply a matter of reheating and even faster to prepare). Rinse and prep mushrooms. Over medium high heat, pour a couple good glugs of olive oil in a heavy cast iron skillet large enough to accommodate mushrooms without going more than a layer or two deep. Once the mushrooms start to brown, add the smashed cloves of garlic continue cooking and stirring occasionally until it all browns and crisps up. You may need to reduce the heat so that they dry and crisp slowly rather than burn. Mash the softened garlic in the pan and stir to distribute. Salt and pepper to taste.
While mushrooms are cooking, add squash and water or broth into a soup pot and heat to a boil. Use a masher or hand blender to puree and cook to desired consistency. Add salt and pepper to taste, as well as a dash of garlic powder if you like. 
Stir in half a tub of chevre and heat through. Distribute into serving bowls and top with some mushrooms, chevre crumbles and a good drizzle of apple syrup. A couple of toasted pecan pieces might be a good addition, if you are so inclined. Serve immediately.