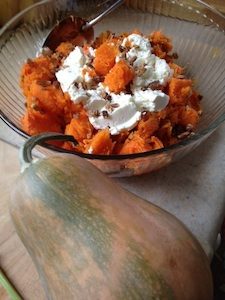 You can use butternut, acorn, buttercup, kabocha, or any of the sweeter, orange-fleshed winter squash for this easy salad with chevre and toasted pecans. Simple deliciousness.
Preparation
Ingredients
1 winter squash
1 tub fresh chevre
1/2 to 1 c. Missouri pecan pieces
Preparation
Preheat over to 400F. Cut squash in half lengthwise and scoop out seeds. Rub cut flesh with olive oil and place in a baking pan, cut side up. Bake about an hour, or until flesh is soft and turning brown. Remove from oven, and while squash is cooling, toast pecan pieces in a dry skillet over medium-high heat, stirring or tossing every few minutes. (Don't walk away–it's too easy to burn them once they get started toasting!).
When squash is cool, cut into cubes and place in a large bowl. Salt as desired and top with pecans and chevre. Dig in.
For a little extra pizzazz, drizzle with a little vinaigrette made with Kreta Balsamic vinegar and a touch of Date Lady date syrup or Blue Heron Pamona's Ambrosia.
Leftovers? Puree in the food processor for a dip for your veggies or crackers. Mmmm.