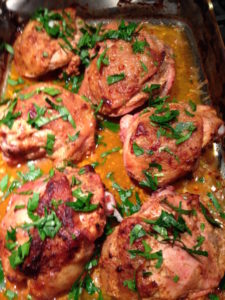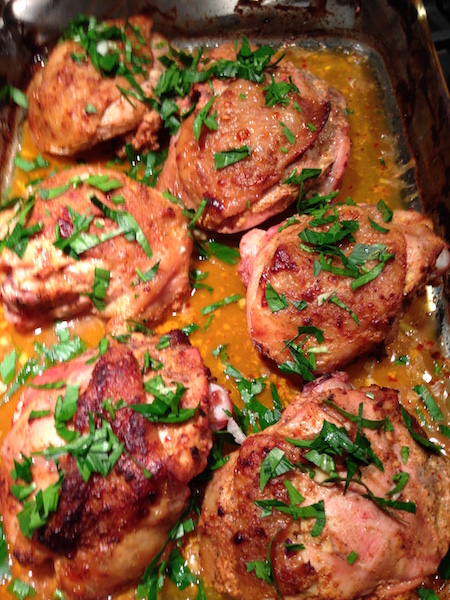 This recipe was inspired and adapted from Madhur Jaffrey's recipe in Quick and Easy Indian Cooking. It was as delicious as leftovers as it was the first night. Perfect with my favorite Indian Stir-fried Cabbage with Fennel Seeds dish–so intoxicatingly aromatic.  
Preparation
The recipe called for boneless, skinless chicken breasts and heavy cream, but I used bone-in, skin-on chicken thighs and plain Greek yogurt. 
Ingredients
6 chicken thighs
1/2 t. salt
2 T. lemon juice
For Marinade
1/2 c. plain Greek Yogurt
1 t. garam masala
1/4-1/2 t. cayenne pepper
3-4 cloves garlic, peeled and mashed
1 t. ginger, peeled grated (I didn't have fresh so I subbed ground)    
1/2 t. ground roasted cumin seeds
For sprinkling over before baking:
lemon juice
salt
ground black pepper
ground roasted cumin seeds
cayenne
Method
1. Cut a few diagonal slits across the top flesh of each chicken thigh (under the skin) and place in a single layer in a baking pan.
2. Rub the flesh with salt and lemon juice. Leave for 15 minutes.
3. Meanwhile combine the yogurt, garam marsala, cayenne, garlic, ginger and cumin in a bowl.
4. Rub over chicken, cover and refrigerate to marinate for as long as you have before cooking–several hours or overnight.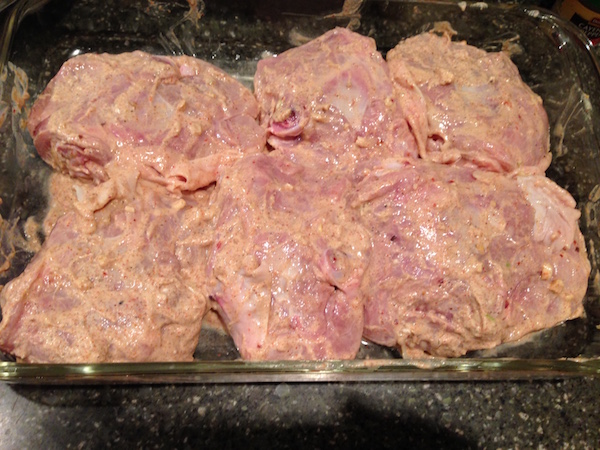 5. Preheat oven to highest setting (I did 475F).
6. On top of each piece, sprinkle lemon juice and a pinch of salt, black pepper, garam masala, and cumin (I mixed these dry ingredients together first).
7. Place pan on top third of oven and bake for 12 – 15 minutes for boneless cuts. For bone-in cuts, reduce heat to 375F and bake an additional 15-20 minutes, until cooked through.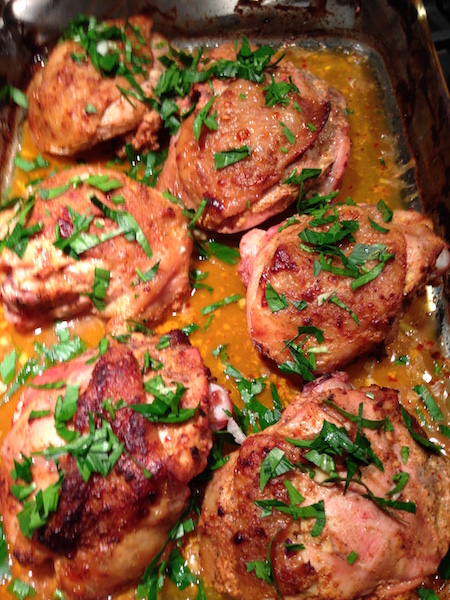 Serve with a salad of spicy greens and Stir-Fried Cabbage with Fennel Seeds.