Match Chicken "Not" Wings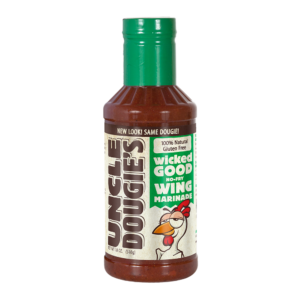 Try this vegan hot wing recipe using Match Chicken
Preparation
1. Thaw Match chicken meat. Mold into nugget shapes.
2. Put flour (we use whole wheat pastry flour) on a plate or shallow bowl. Pour some soy milk in a small bowl.
3. Dip each "wing" first in the flour, then the soy milk, then again in the flour so it is well-coated.
4. Sauté in a small amt of vegetable oil or cooking oil spray until browned on both sides.
5. Remove from heat and let cool in pan 5 minutes. (Otherwise sauce sizzles and evaporates when you put it on)
6. Pour on enough wing sauce to coat. Turn to make sure all pieces are completely covered. Put back on stove and sauté until sauce has thickened and absorbed.
Uncle Dougie's wing sauce, sold at Whole Foods, is vegan, but I'm sure this would work fine with any sauce.