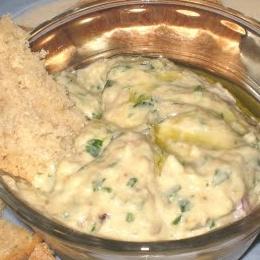 This recipe calls for anchovies, which a lot of people shy away from, but I think they deserve a second chance. I know the Italians use anchovies in many dishes, to add just a bit of salty, savory depth of flavor, without adding any fishy character.
Preparation
1 globe or 2-4 Asian eggplant
6 flat anchovy fillets, drained
3 cloves garlic, minced
2 T. finely chopped flat leaf parsley
2-3 T extra virgen olive oil
Grill or roast the eggplant until soft. While cooling, mash anchovies with garlic and parsley and sauté in olive oil over medium low heat. Continue to mash for five to seven minutes, being careful not to burn the garlic. Scoop out the eggplant pulp and mix with the anchovy mixture. Mash together and run through the food processor if necessary.
Serve with crudite and crusty bread.
This can be made with roasted red peppers instead of eggplant,