Eggplant Basil Sandwiches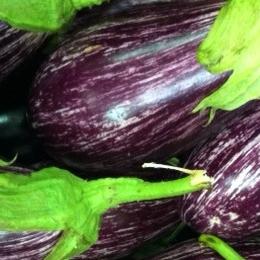 From the cookbook From Asparagus to Zucchini.
Preparation
1 firm, slim medium eggplant, peeled and cut crosswise into 1/4 inch thick slices (about 4 cups or 20-24 slices)
kosher salt
1 package (8 ounces) cream cheese, softened (or Quark)
1/2 cup minced fresh basil
3/4 cup soft bread crumbs
3/4 tsp salt
1/4 tsp cayenne pepper
2 large eggs
vegetable oil (for cooking eggplant)

Lightly salt eggplant slices with kosher salt; place in colander and weight the slices with a heavy pot. Let stand in sink at least 30 minutes. Rinse with cold water and pat dry with paper towels. Mix cream cheese and basil in small bowl until smooth.
Combine bread crumbs, 3/4 tsp salt, and cayenne pepper on sheet of waxed paper. Crack eggs into a pie plate and  froth with a fork. Spread eggplant slices with herbed cheese, using about a teaspoon on smaller slices and slightly more on larger ones. Make sandwiches with the slices. Dip sandwiches first in beaten eggs, then in crumbs until well coated.
Heat oil to 1/8 inch depth in large, nonstick skillet over medium heat. When very hot, fry sandwiches in batches without crowding until crisp and golden on both sides, about 3 minutes per side. Serve warm (not hot). Sandwiches can be kept warm in a preheated 200 degree oven while remaining sandwiches are cooked. These are nice with a thick tomato sauce.