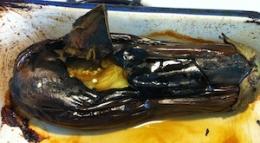 Whole eggplant roasted under the broiler makes for a super smooth texture in a richly-flavored puree. Squeeze in fresh garlic, add salt and pepper, a little lemon juice and tahini for babaganoush. Add garlic, a little chevre and fresh basil for a nice sauce for pasta or rice. Or add fresh chopped peppers and tomatoes and other veggies for a tasty side dish or base for the rest of your meal.
Preparation
Ingredients
Whole eggplant
 
Preparation
Preheat broiler. Poke eggplant all over with knife or fork and place in broiler safe pan (it's worth doing several eggplant at once). Place pan under the broiler and turn eggplant every 15 to 20 minutes, until skin is blackened all over. Remove from broiler and let rest for 15 – 30 minutes.
Use a knife and spoon to remove the skin and scoop out the pulp into a bowl. Puree with a stick blender or in a food processor, or just use forks to break it all up for a more rustic texture. Season per your recipe or use.