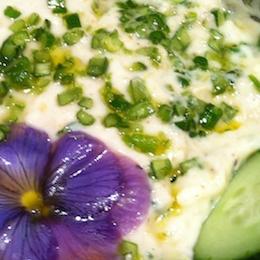 This is a great dip for veggies or toasts, crackers and bread. It also makes a delicious spread for a sandwich or filling for an omelet. Can you say versatile?
Preparation
1/2 c. plain yogurt (greek or regular)
1/2 c. plain quark or chevre
1/2 c. grated cheddar, gouda or other block cheese (optional)
2 or 3 garlic scapes, chopped fine
salt and pepper
olive oil
Mix all ingredients except olive oil. Taste and adjust for seasoning and consistency; add yogurt to thin, or more cheese to thicken. Drizzle with olive oil and garnish with edible flowers, if desired. Serve chilled.