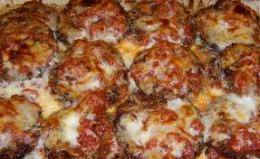 This dish is savory and satisfying, with the spice combination of cinnamon and cloves that make it an exotic and exciting meal. 
Preparation
Ingredients:
2-3 T. butter 4 cloves garlic, crushed
1 -2 lb ground beef, lamb or combo
2 medium onions, 1/4 inch slices
2 hot and 2 bell peppers, sliced
1 lg. eggplant (2 lb.), 1/4 inch slices
4-6 med-large tomatoes, minced
olive oil
1/2 t. cinnamon
1 T. salt
Pepper to taste
1/4 t. cloves
1/4 c. toasted pinenuts
1 c. grated mozzarella, or scamorza
Brown the meat and garlic in the butter in a skillet. Grease a 13x9x2 baking dish or casserole with olive oil and layer in ground meat, onion, peppers, eggplant, tomatoes and spices. Brush or drizzle each veggie layer with olive oil. Sprinkle with pinenuts. Bake covered in a 450 degree oven for 40 minutes. Uncover, add grated cheese and bake an additional 30 minutes or until eggplant and onions are soft. Serve hot ladled over rice or pasta, if you want some carbs.