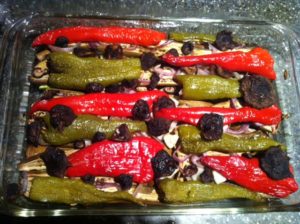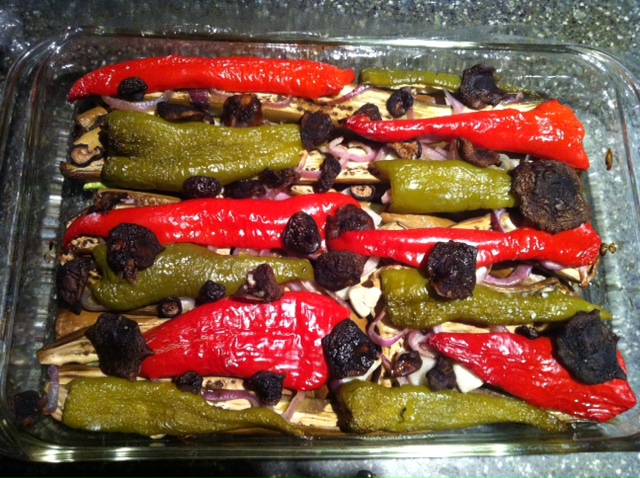 Sometimes the perfect summer lunch is a cold sandwich made from last night's roasted veggies that have been marinating in a little balsamic vinaigrette overnight. Or maybe you want that perfect pasta dish that's as fast as opening a jar of sauce, but oh so much better!
Preparation
It's not so hard to slice up a few things from the drawer in the refrigerator and get it roasting for another meal while you prepare dinner for tonight. Time it right and you can pull it from the oven before you sit down to eat. Then it's cool enough to pop in the refrigerator when you finish cleaning up after the meal. Now you have a big pan of delicious, perfectly roasted veggies for a couple of meals. You clever little devil, you.
Ingredients
The contents of your veggie drawers. Mine included:
1 large zucchini or zephyr squash
2 Asian eggplant
2 Anaheim or poblano peppers
2 Carmen or sweet peppers
1 bag shiitake mushrooms, destemmed and rinsed
1 large shallot or medium onion
2-3 large cloves garlic
Kreta Reserve olive oil
coarse sea salt
I decided to slice everything thick and long to make it quick and get it in the oven. I poured a thin layer of olive oil in a cake pan and laid the squash flat, then turned each piece over so the oil coated both sides. I layered the eggplant on top and then shallot and garlic. The pepper strips and mushrooms went on last, and I added a little sprinkle of salt and another drizzle of oil over the top. The mushrooms came out nice and crispy, several needing to be eaten immediately.
I baked mine for an hour and 15 minutes at 400F. I've said before, I like everything cooked until caramelized, so if you prefer a little less cooked, 45 minutes to an hour should be plenty.
Cool completely, cover and store in the fridge over night. Alternatively, you can drizzle over some good balsamic and some of that delicious Kreta olive oil, sprinkle with fresh chopped basil and let it marinate in the fridge. Use for sandwiches with a slice of fresh mozzarella, over salad, on bruschetta or crostini, or reheat and serve with pasta or rice.