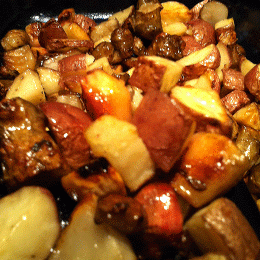 Some people are a little iffy about or uninspired by root veggies, and let them sit in the fridge until they are in a state that leaves no future but the compost heap. One way to sweeten up–and sometimes even disguise a root veggie you or your family is suspect of–is to throw it in the oven and roast it until it caramelizes.
Preparation
This dish doesn't need a recipe, just use whatever you have on hand, including: potatoes, sweet potatoes, turnips, sunchokes, carrots, rutabagas, beets, parsnips, radishes, any other edible roots you have. Also include: garlic, onion, shallots, herbs (rosemary and sage are especially good here). And consider including: winter squash, peppers, tomatoes.
Preheat oven to 400F degrees. Wash and chop veggies in like-sized pieces so they cook evenly. Toss in olive oil to coat and sprinkle generously with sea salt and black pepper. Spread evenly in a roasting pan only one or two layers deep. Roast, turning every twenty minutes until it reaches desired doneness. Typically, an hour will produce soft on the inside, golden and crispy on the outside, but it depends on amount being roasted. If using peppers or tomatoes, add after first 20 minutes. If softer, creamier consistency is desired, add a cup of chicken or veggie broth to the pan before cooking. Some veggies take longer than others to cook, so test them all before removing from oven. Great served with roasted meat. Also a satisfying vegetarian meal when served with a big green salad and a side of sauteed peas shoots or arugula.