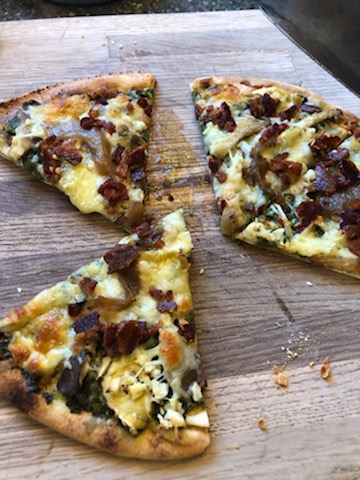 Wrap it up, I'll take it! 
Roll-ups were a popular trend for a number of years, but we're way beyond trendy. We've always had a soft spot for pitas–soft or crispy, white or whole wheat–and here are a few of our favorite ways to eat them.  
Preparation
Remember the pita pocket? Me neither. Besides, that always just broke and made a mess, so it can go stuff itself. We think you're better off using it as a wrap or a flatbread. Try these ideas: 
Fish Tacos/Burritos. Cinco de Mayo or not, fish tacos are dreamy. What can you put in it? Del Carmen beans or dip, grilled or pan-fried Wild Alaska salmon or cod (maybe marinated in Del Carmen Mojo), Windcrest plain Greek yogurt, salsa, cheese of your choice–maybe you want to go creamy with a quark or chevre, or melty with a gouda or havarti–we have plenty of variety, so be creative. Ole!
Gyros (obviously). Need a recipe? Here you go.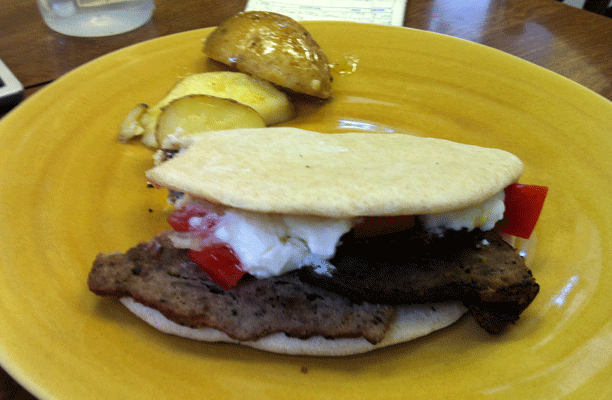 Pita Chips: Being one of those annoying "locavores," I tend to be obnoxiously restrictive and eat only what I can get through Fair Shares (I do get over myself sometimes and eat avocados, bananas, lemons and limes, chickpeas, spices, sushi, coconut, Prosecco, etc.).
While on my high horse, my go to cracker is the pita chip. Conveniently, they seem obliged to make themselves if you cut up your soft pitas and leave them out too long. You can also make them intentionally by cutting them into your preferred shape, like octopus or snowflakes, and spreading them in a single layer on a baking sheet. Toast them dry in the oven at 250F for about 15 to 20 minutes. You can do it faster at a higher temperature, but it you're lazy like me, you'll forget about them and burn them or toast them so dark you'll have to tell everyone they are whole wheat instead of white. Serve with cheese and salame, hummus, yogurt and pesto dip, black beans and salsa…you get the idea.
Pita Pizza. Need some suggestions? Here you go.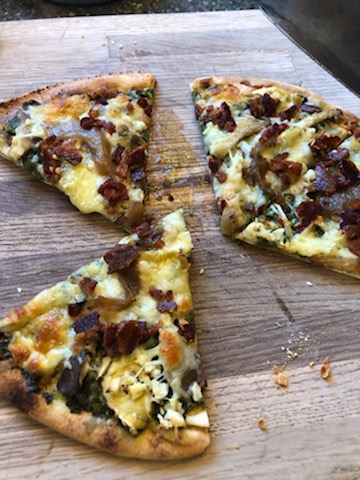 Pita Quesadillas. Tear or chop a few Ozark Forest Mushrooms and grate some cheese (these will be good no matter which cheese you use). Heat a large skillet (preferably cast iron) over medium heat, place pita flat in the pan, sprinkle half with cheese and mushrooms, salt if you like, fold it over and let cook for a couple of minutes. Press to seal somewhat before turning and cooking other side about a minute or so. Be careful not to burn it. You can cook until the tortilla gets a little crispy or keep it short, sweet and soft.
Peanut Butter and… Gee, where do we start. Put Mound City or Eastwind peanut butter in a tortilla and there's any number of ingredients to add for a super-powered, healthy snack or meal (and generally very popular with children). We used to eat this on camping trips–now we just eat it all the time. Here are a few of our favorite things to include: honey, sunflower seeds or pepitas, bananas, apples, apple butter or apple syrup, date syrup, and dried fruit like dates, raisins or dried cranberries. Sometimes we like to heat the pita over the gas burner (be careful!) before loading it up. Mmmm.
Got a new trend to share? Join our Facebook group and post your pics! Everyone's doing it.