Yogurt Cheese (aka Hung cheese)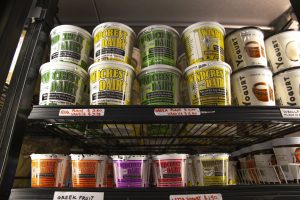 This is an excellent source of protein and calcium and can be used in place of mayonnaise, sour cream, cream cheese, whipped cream, shortening, oil or eggs in many recipes. For every 2 tablespoons of yogurt cheese you receive 21 calories, 2.5gm. protein, 2.5gm. carbohydrate, and 60mg. calcium (so says Eat Well the YoChee Way by Nikki & David Goldbeck).

To make cheese you will need a colander lined with cheese cloth (or try coffee filters) and a bowl under the strainer to catch the liquid. For each cup of yogurt used for making cheese there will be 1/2 cup of liquid. Pour yogurt in the strainer and cover with waxed paper or a plate and place in the refrigerator.

The thickness of the final product depends on how long you leave it. The flavor becomes more mellow and less acidic than that of the original yogurt. In 2 to 4 hours it will be it will be like cream. In 4 to 6 hours it is akin to sour cream. After 8 to 12 hours it reaches a semi-firm form of cheese and by 24 hours, most the moisture is gone and the texture will be similar to cream cheese.

Once done draining, store in a covered container and use within a week. The liquid whey can be added to smoothies, bread or pancake recipes, or in place waters with pasta or rice.