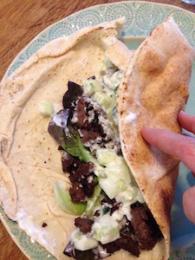 With gyro meat, pita, yogurt and cucumber, you are minutes away from a super delicious and infinitely satisfying meal. Happy happy joy joy.
Preparation
Ingredients
1 lb. Gyro meat (it's flavorful enough that you can extend it with ground pork or beef, but feel free to get an additional gyro meat)
4 Pita wraps
Tzatziki Sauce (Recipe here)
Lettuce, Onions, Tomatoes for garnish/filler
Preparation
Prepare the gyro meat either by cooking in a pan, breaking it up as ground meat or form it into patties or strips to fit your pita bread. Grill for extra deliciousness.
Heat the pita in foil in the oven, if desired. Place a pita on each plate and layer veggies, meat and tzatziki into one side of th pita. roll up, tucking in one side so you can pick it up. If you fear it will we too messy, wrap it in foil or wax paper so you can pick it up.
Nom Nom Nom!