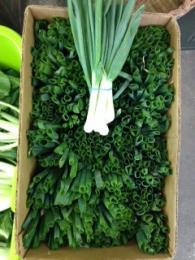 The first green onions of the season always make me want to eat frittatas. The fresh, mild flavor of green onion just pairs beautifully with eggs to make a simple non-fussy brunch that is perfect served with tossed green salad. Of course, you can go crazy and add meat, mushrooms and spinach, but sometimes simple is best.
Preparation
2 T. olive oil, or half olive oil and half butter
1-2 whole green onions, root end removed, whites and greens sliced finely
4 eggs, beaten with a shot or milk or half and half
Sea salt and freshly ground pepper to taste
1/4 c. grated cheese (any cheese would be delicious here)
Heat the oil/butter in a smallish skillet over medium-low heat–you need enough oil in the pan so you can flip the frittata, and you want the heat low enough that the egg will cook without burning on the bottom first. When the oil is heated, add the green onions and stir, cooking until they just begin to brown. Salt and pepper the egg mixture and pour over the onions. Cover with a lid and let cook for several minutes, until the eggs become set and are no longer runny on top. Now take your lid, if it is flat, or a plate if your lid is not flat, cover the pan and flip the frittata over onto your plate. Then slide the frittata back into the pan to cook the other side. Sprinkle your cheese over the top, put the lid back on and cook for another minute to allow the bottom to brown a little and the cheese to melt.
* To go ahead and take this recipe over the top and reach Nirvana before lunch time, chop up some Salume Beddu Berkshire Bacon or Guanciale (remove the tough rind first) and cook until nearly crisp, then add your green onions in to cook with the rendered fat (seriously folks, this is WHY guanciale and bacon exist–happy meat fat is much more healthy than corn or safflower oil). BUT, you might find that the meat sticks on the pan, so you may want to heat a new pan, add your cooked meat and onions and go from there so your frittata won't stick. If at first you don't succeed, call it scrambled eggs. It'll still be delish.
Serve over some fresh salad greens drizzled with aged balsamic vinegar.