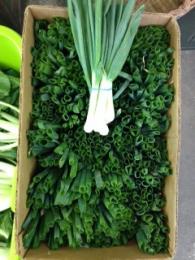 This recipe was submitted by member Amy Coats a couple years ago and it got rave reviews!
Preparation
Ingredients 
10 green onions
2 Tbs  butter or olive oil
2 Tbs Flour
2 cups vegetable/chicken broth
1-2 tsp. soy sauce
1 tsp. parsley
1 tsp. sugar
1/2 tsp. paprika
1/2 tsp. salt
1/2 tsp. dill
1/2 tsp. thyme
1/8 tsp. cayenne or red pepper flakes
1/8 tsp. celery seed
Wash and chop green onions.
In a saucepan, sauté the green onions in oil for a couple of minutes.
Add the parsley, sugar, paprika, salt, dill, thyme, celery seed, flour and cayenne.
Sauté 1-2 minutes more.
Add a small amount of broth and scrape all brown bits off bottom of pan.
Add remaining broth, reduce heat, cover and simmer 20-30 minutes.
I emulsified it.  The recipe didn't call for it but it makes a nice creamy soup.