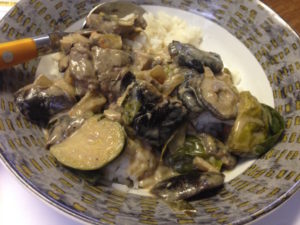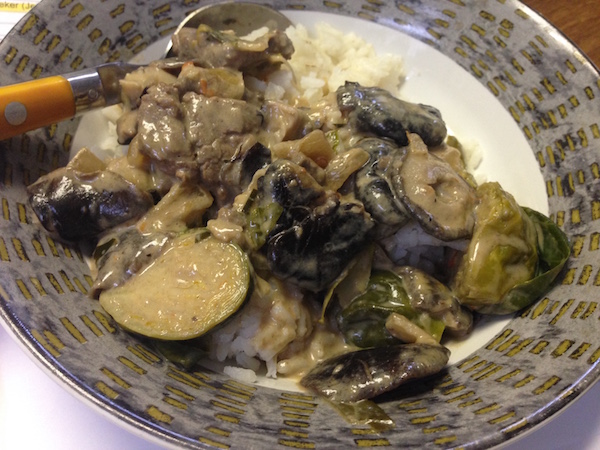 This was a pretty quick and easy meal that was a delicious preparation for the sirloin kebab meat in the shares. Would that I had remembered to take photos before getting it on the plate…
Preparation
I used what I had in the refrigerator for the veggies, so feel free to substitute.
Ingredients
1 pound sirloin kebab beef, sliced thinly
1 onion, chopped
1 share (~2c.) Brussels sprouts, halved
1 share (~1/2lb.) shiitake mushrooms, de-stemmed and sliced
1 can coconut milk
1 T. Thai green curry paste
1/2 to 1 T. Thai garlic chili paste (adjust to taste, I like it hot)
2 kaffir lime leaves, minced
1 T. minced "fresh" ginger (I keep it in the freezer, so "fresh")
Prep all your ingredients. Heat a wok or large cast iron skillet over medium-high heat and add about a tablespoon coconut oil. Cook the onions until softened and beginning to brown, about 7 minutes. Add the curry paste, garlic chili oil and a quarter cup of the coconut milk and stir well to distribute the curry and chili pastes. 
Add the beef, ginger and lime leaves and stir and fry for a minute, then add the Brussels, mushrooms and remaining coconut milk. Bring to a low simmer until Brussels are at desired softness, about another 5-7 minutes.
Serve over rice or spaghetti squash. So good, and almost better as leftovers, but that may be because you can't wait to eat more of it.