Simple Zucchini and Onion Saute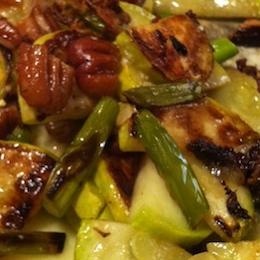 This is just a simple dish that makes its own thickened
sauce and is wonderful over pasta or rice, or in risotto,
cooked wheat berries or other whole grains. It's versatile
and forgiving, and can be adapted to your particular tastes.
Preparation
Serves 4-6.
• 2-3 zucchini or squash, sliced into 1/4" half rounds
• 1-2 sweet onions, sliced into 1/4" rounds and quartered
• 3-4 cloves garlic, chopped
• 2T. olive oil
• 1/2 t. sea salt & several turns freshly ground black pepper
Heat the oil in a skillet or wok over medium high heat and add the veggies all at once. Allow
to cook until softened and releasing their juices. If you prefer your onions caramelized, add
the zucchini and garlic 5-7 minutes after starting the onions. Add salt and pepper, and any
fresh herbs, if you like. This would be good with eggplant in the mix, as well as mushrooms.
Add some grated Marcoot Tomme cheese, if desired.