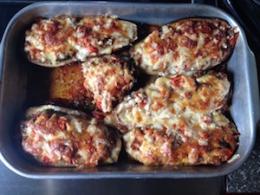 I'm looking forward to being on a boat on the coast of Maine in a couple of weeks, so let's make some delicious eggplant boats to get us in the mood. Although a poor substitute for the smell of saltwater and an ocean breeze in your hair, these are really good. If you hate eggplant, this might be the recipe for you. As some of you may have noticed, I would make a terrible food blogger. That's because I'm not a food blogger. But I do cook and write a weekly newsletter, so there you have it. 
Preparation
Since all I generally eat is food rescued from the compost, and since it's high summer, you can bet I have a lot of food to process and eat right now (otherwise I wouldn't be fantasizing about being in Maine galavanting on boats). But I'm not bitter about it, and neither is this delicious stuffed eggplant boat, inspired by a member who said she was making eggplant boats a number of weeks ago. 
My Uncle Google gave me this recipe for Stuffed Eggplant Parmesan here on Delish.com.
I highly recommend checking it out because the site has one of those groovy, instructional, time-lapse sort of videos which you will likely NEVER FIND ON THIS WEBSITE. I'm lucky if I remember to take a picture while I'm stuffing it in my mouth, much less while I'm actually preparing it. So, go on over to watch the video, check out the recipe, and then come on back to find out how to make it really flavorful and delicious. I'll wait here.
Oh, welcome back! So you know those tomatoes and peppers that are spotted or oozing and you are tempted to throw them in the compost? They are the key to your most amazing flavor-punch secret ingredient. If you are not doing this one crazy trick to get a flat–oh wait, wrong ad…
Here's the deal. Cut out the nasty parts and cut the good stuff into big chunks. Throw them in a roasting pan with onions, garlic, a drizzle of olive oil and balsamic vinegar (wait on the salt) and give them a nice, long roasting at 400F, stirring every half hour or so until the juices are reduced to a paste–I mean pretty darn dry, and go ahead and break it all up with the spatula to get more of the juices out during the roasting.
This may take a couple of hours if you have 20 pounds of tomatoes and a dozen peppers to get through like I did, but don't be intimidated–this is something you can do in the background while you get on with your life. It should be relatively quick if you don't have much to work with. Once you've cooked it all down, you can salt and pepper it to taste and throw in some fresh basil. Since the end quantity is going to be a quarter (or less) of what you started with, you're likely to oversalt if you do it too early.
If you don't have enough to work with, throw it in the freezer and keep making more until you have enough. NOW make this recipe, substituting this rich, luscious sauce for the marinara. You could brown up a pound of some ground meat, gyro, or sausage if you want to put some extra flavor and protein in.
Here's my version of the recipe, with the ingredients that I used substituted in. I also found the cooking times to be a bit short, so I adjusted those here as well.
Ingredients
2 c. roasted tomato-pepper sauce, divided
3 medium eggplants, halved
2 tbsp. extra-virgin olive oil
3 small onions, chopped
1 tsp. dried oregano
kosher salt (I used sea salt)
Freshly ground black pepper
2 large cloves garlic, minced
1 L slicing tomato, chopped
1 large egg, lightly beaten
1 pkg. Marcoot fresh mozzarella, shredded, divided
1 c. freshly grated Kickapoo
1/4 c. Italian bread crumbs (I didn't have these, so I omitted them)
1/4 c. basil, chiffonade
Preparation
1. Preheat oven to 350°. Spread about 1.5 cups marinara sauce in the bottom of a medium baking dish.
2. Using a spoon, hollow out the eggplants leaving about a 1/2" thick border around skin to create a boat. Roughly chop scooped out eggplant. Place eggplant boats on prepared baking dish.
3. In a large skillet over medium heat, heat olive oil. Add onion and cook until softened, about 5 minutes. Stir in chopped eggplant and season with oregano, salt and pepper. Cook, stirring often, until the eggplant is golden and tender, 8-10 minutes. Stir in garlic and cook until fragrant, about 30 seconds.
4. Transfer mixture to a bowl and add chopped tomatoes, egg, 2/3 of the shredded mozzarella, and the remainder of the sauce. Mix until just combined.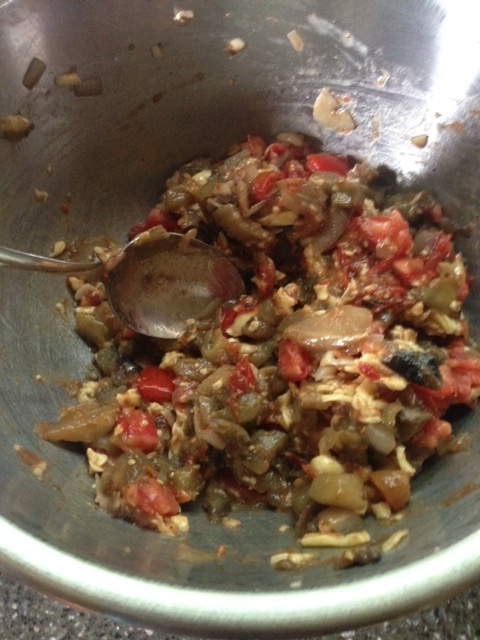 5. Scoop mixture into eggplant boats. Top with more mozzarella, Kickapoo and bread crumbs if you have them.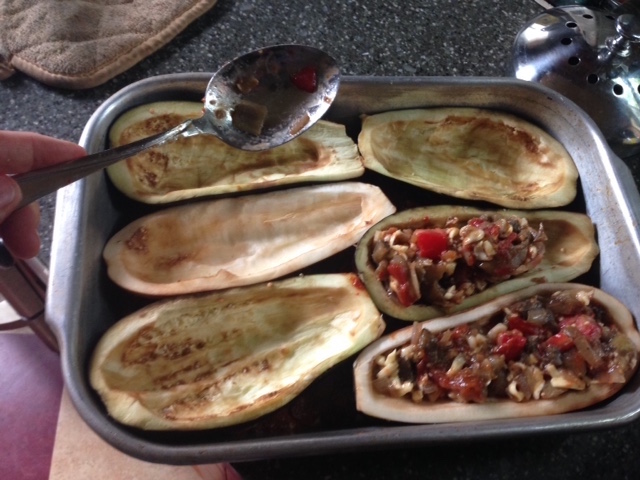 5. Bake until the eggplants are tender and the cheese has melted, about 50 minutes.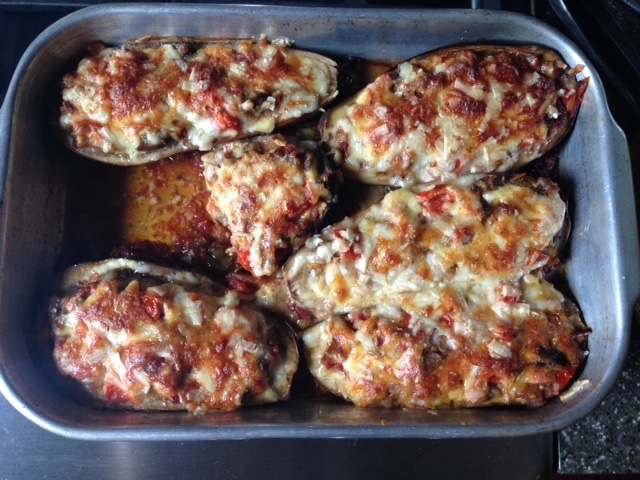 6. Garnish with basil and serve warm. Really good as leftovers, reheated.