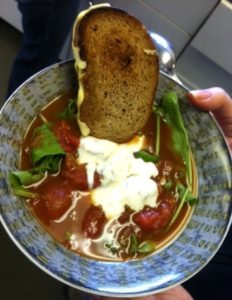 It's chilly, you're lazy–I mean busy–and you want hot soup soon. Try this simple tomato soup recipe that comes together in a snap with a few ingredients you might already have on hand.
Ingredients
1 jar Zimmermann's Tomato Juice
1 tub Del Carmen Vegetable Broth
1 jar Hilty Tomatoes
1 jar Gringo's Sweet Onion Salsa (or salsa of choice)
1 Bellews Creek Chipotle, whole
1 head garlic (or to taste), roasted or fresh, or combination
Salt and Pepper to Taste
Windcrest Plain Yogurt
Fresh Basil
Preparation
Put first seven ingredients in a soup pot and bring to simmer. Cook for twenty minutes (or more) to meld the flavors. Mash the whole tomatoes up with the back of a spoon, adjust spices to taste. Remove whole chipotle ad chop into bowl. Add some plain yogurt and chopped basil to make a topping for the soup. Serve over chopped fresh kale or arugula. Don't forget the grilled cheese, and enjoy the cool weather.