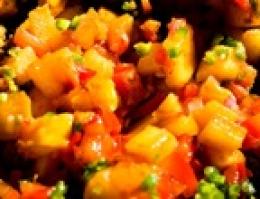 The sweetness of the peach adds a nice counter to the spicy jalapeno, and the peach and tomato together…well, they've kind of got a thing going on.
Preparation
3 ripe peaches, chopped
1 T lemon juice
2 large ripe tomatoes, chopped
1 tiny onion (preferably red), minced
2 or 3 jalapeno peppers, minced
1 T cilantro, coarsely chopped
2 T cider vinegar
Mix all ingredients and refrigerate at least five minutes before testing. You may want to add more jalapeño or vinegar, or if too acidic, add a dash of honey. Serve with tortilla chips or over pork.