Creamy Roasted Tomato Soup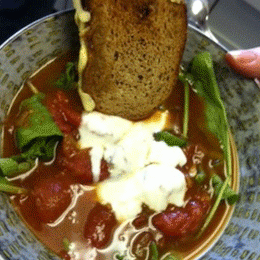 The best tomato soup I ever ate was at The Tap Room back in 1992, when a cook named Sherry used to make it, but would never give out her recipe. It was rich and creamy with chunks of delicious tomato, and I would have put money on there being bacon in it, but Sherry swore it was vegetarian.
This recipe is vegetarian, but I'd bet crumbled bacon as a garnish would put it over the top. Serve with a grilled cheese sandwich for a little comfort food.
Preparation
2 1/2 pounds fresh tomatoes (mix and match for the best flavor)
6 cloves garlic, peeled
2 small yellow onions, sliced
1/4 cup extra-virgin olive oil
Salt and freshly ground black pepper
3 cups water (or chicken or vegetable broth)
2 bay leaves
2 tablespoons butter
1/2 cup chopped fresh basil leaves
1/2 cup heavy cream
Preheat oven to 450 degrees F.
Wash, core and cut the tomatoes into halves. Spread the tomatoes, garlic cloves and onions onto a baking tray. Drizzle with 1/4 cup of olive oil and season with salt and pepper. Roast for 30 minutes, or until caramelized.Remove roasted tomatoes, garlic and onion from the oven and transfer to a large stock pot. Add water, bay leaves, and butter. Bring to a boil, reduce heat and simmer for 15 to 20 minutes. (Note: I roasted the veggies during dinner, cooled, and refrigerated it until the next day when I reheated it all in a pot.)
Add basil and use an immersion blender to puree the soup until smooth, or pour the soup into a regular blender, or puree in small batches in a food processor. (Another couple of notes: be careful pureeing hot soup in a food processor or blender. Work in small batches so it doesn't explode out, burn you and make a huge mess. Also, only puree a bit of it if you like your soup chunky). Return soup to low heat, add cream. Season to taste with salt and freshly ground black pepper.
The photo is the chunky version with greens added. Mmmm.