Tetrazzini is an American, not Italian dish, named after Italian opera singer Luisa Tetrazzini. It has many variations–turkey, chicken, or seafood, for example–but is essentially a meat in a cream sauce with mushrooms and cheese served over a long pasta. I made a turkey tetrazzini for this recipe. Some people put sliced almonds and more cheese on the top, but I used Kicker potato chips for my topping…yeah. 
Preparation
Ingredients
3 c. cooked turkey or chicken, cut into small chunks
1/4c. butter
1/c. flour
1-1/2 t. salt
1/2 t. pepper
1 medium onion, diced
1 share (1/2lb.) shiitake mushrooms, rinsed, stems removed, sliced
1T. oregano or tarragon
2c. chicken broth
1/2c. white wine or dry sherry
2c. grated hard cheese, like Marcoot cave-aged gouda, heritage or cheddar
1c. plain Greek yogurt
1 medium green pepper, diced
1 medium red pepper, diced (I used sun-dried tomatoes because I didn't have a red pepper)
2 green onions or 1/2 cup chopped cooking greens or shoots (optional)
1 lb. whole wheat linguini, cooked not quite al dente
1 3oz. package Kickers potato chips, crumbled (except for the large, folded over, too-tempting chips that had to be consumed because you accidentally opened the bag before crumbling)
Preparation
Melt butter in a large, deep-sided skillet and whisk in flour, salt and pepper. Continue stirring with the whisk until the roux just begins to brown and smell like a cooked pie crust.
Whisk in the broth and sherry, a little at a time in the beginning, to avoid lumps, until the flour is incorporated; then you can add all the rest in and whisk to mix well. When it starts to bubble, add the onions, mushrooms and herbs and continue to cook for about five minutes. Turn off the heat and add the grated cheese, stirring until melted. Stir in yogurt and transfer cream sauce to a large bowl.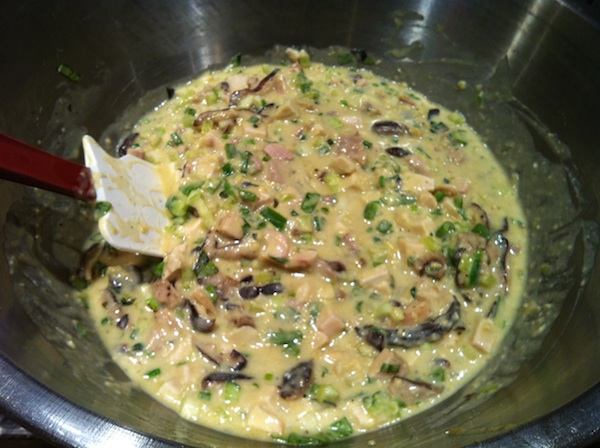 Add peppers and green onions or greens. Fold in cooked noodles and mix well.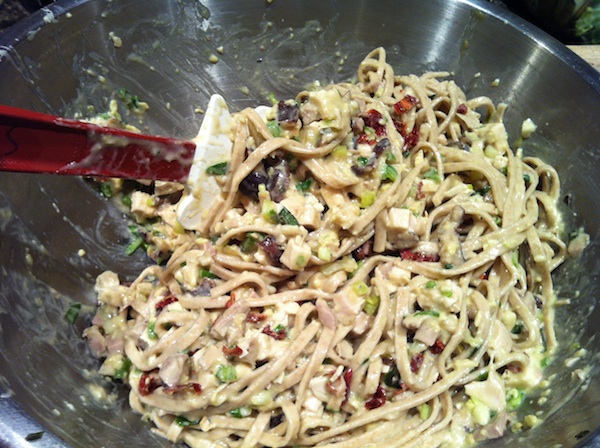 Transfer to a baking pan and top with crumbled potato chips.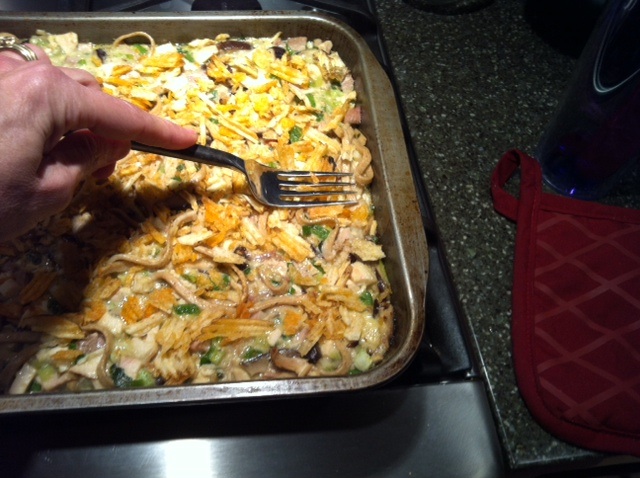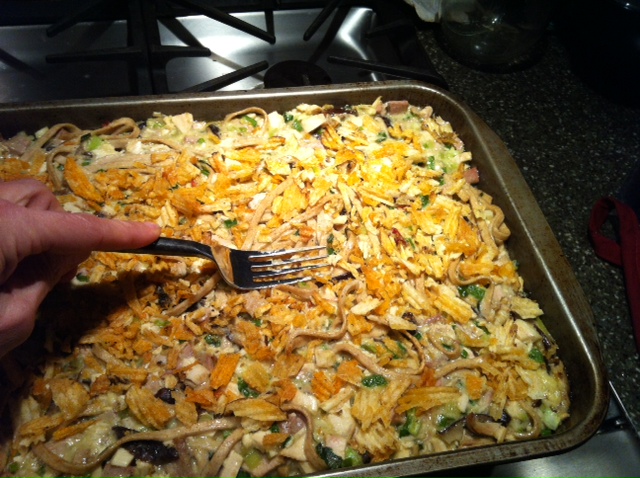 Press the chips into the top with a fork and bake 45 minutes to an hour at 375F, until the sauce is bubbly and the top is golden brown.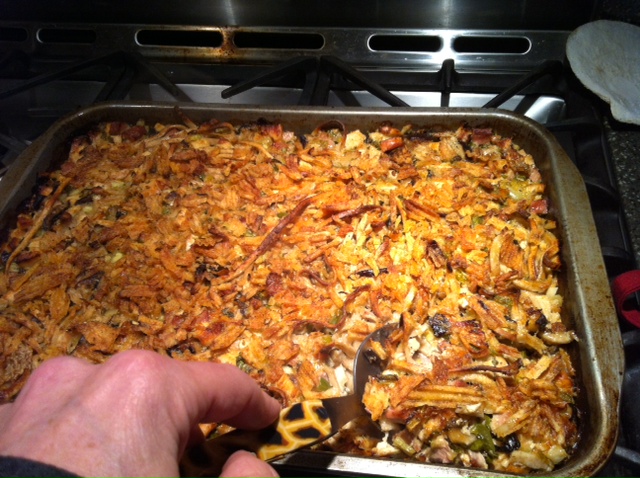 Serve in a small enough bowl that you don't have to feel guilty about having seconds.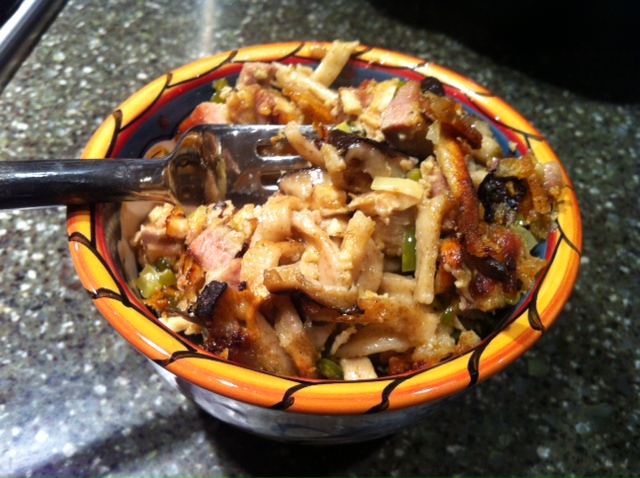 If guilt or calories are not your issues, go ahead and have a big bowl. Enjoy!