Chicken Baked in Lemon Mojo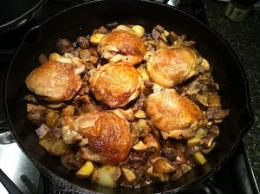 If you haven't yet tried the Del Carmen Cuban Mojo, here is a delicious preparation using chicken meat, but you can use it with salmon, tofu, pork chops or any ground meat.
Preparation
1 pound chicken breasts or thighs
1/2 to 1 tub Lemon Mojo, enough to marinate well.
Preheat oven to 375 or 400. You can skin and cut the chicken in chunks, or leave in whole pieces. Marinate in mojo, refrigerating for at least 20 minutes and up to a couple of hours, turning periodically (reserve at least a few tablespoons mojo to make a dressing or sauce). Arrange chicken in baking dish and bake for about 30 minutes, until chicken is browned. Turn and continue baking until chicken is golden and mojo is reduced. Served over salad with a plain yogurt and mojo dressing, or over roasted veggies or boiled rice with a drizzle of remaining mojo.