We love working with Kitchen Kulture, who you might recognize from the local farmers' markets, or their brick and mortar restaurant, Kounter Kulture. They use local farm ingredients to create delicious prepared foods that include ready-to-eat salads, hummus, pestos, salad dressings, and other meals that you can defrost, heat and eat. Check out what's available this week!
Cauliflower Hummus: This is a delicious chickpea-based hummus with the flavor and texture you'd expect, but it's lightened up with cauliflower. Garlicky and satisfying, and great on a gyro or with veggies and pita as a snack.
Cous Cous: With asparagus, feta, almonds and apricots, and a generous dash of je ne sais quoi deliciousness.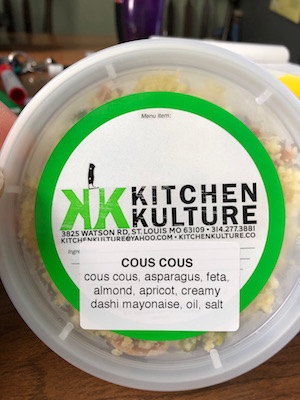 Almond Pesto: A traditional basil pesto but with almonds instead of pine nuts.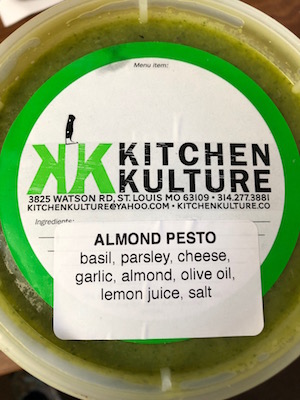 Saag Paneer: This is our idea of fast food. The fantastic Saag Paneer is an Indian dish of spinach, kale or other greens in season from local farms and Marcoot paneer cheese in a creamy coconut milk base. This vegetarian dish may be eaten as is, or add rice, noodles, meat and/or more veggies to extend it into a full meal.