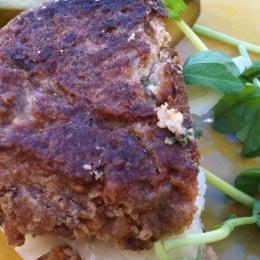 Arianna found this recipe for tofu burgers on a blog called 101 Cookbooks. She substituted pecans for the cashews in the recipe, and we gobbled them right up. Here's the link:
http://www.101cookbooks.com/archives/tofu-burgers-recipe.html
Preparation
I suggest going to the website for the full blog–she has great photos to go along with it.
Tofu Burger Recipe
1 pound / 16 oz / 450 g extra-firm tofu, drained and patted dry, then sliced
2 large eggs
1/2 cup / 2 oz / 55 g fine dried bread crumbs
1/2 cup / 2 oz / 55 g cashew nuts
1/2 cup / 2 oz /55g sunflower seeds
1/2 cup / 2 oz / 55g sliced mushrooms
1 tablespoon Dijon mustard
1 tablespoon shoyu or soy sauce
1 teaspoon ground cumin
1/2 teaspoon ground cayenne
1/4 teaspoon fine grain sea salt
1 tablespoon extra virgin olive oil

extras: whatever buns & condiments you like. I did a combination of goat cheese and homemade pickles. You could also do a lettuce wrap in place of buns. And I couldn't resist the mini brioche buns from La Boulange.
Place all the ingredients except the olive oil in a food processor. Pulse until the mixture comes together and is free of most chunks, stopping to scrape down the sides of the food processor once or twice if needed. If it seems a bit thin to you, add more bread crumbs a small handful at a time until everything comes together.
Divide the mixture into eight equal portions and use your hands to (really) press and form into round but flat-ish patties.
Pour the olive oil into your largest skillet over medium-high heat, and arrange as many patties as you can without crowding. Cover, and cook turning once, until deeply browned on both sides. Roughly ten minutes. You want to make sure the middle of the patties cook through. If the pan is too hot you'll burn the outsides before the middle cooks up, so be mindful of that.
Serve with your favorite burger fixings. I mention a few ideas up above in the ingredient list.
Makes eight tofu burgers.
Adapted them from a reader contributed recipe that ran in the October 2004 issue of Sunset Magazine.
Prep time: 10 min – Cook time: 10 min