Ramen Noodles with Tofu, Shiitake Mushrooms and Pea Shoots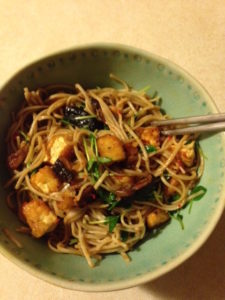 Jamie gave me a birthday present by creating this delicious looking recipe for the newsletter this week. I fully intend to be an ungrateful birthday girl and request that she actually make the dish for me…
Preparation
1 pkg. Mofu Tofu
1/3 cup corn starch
1/4 tsp red pepper flakes or cayenne pepper
1/4 olive oil
4 T. sesame oil
1 cup mushrooms, sliced into strips
1/4 cup onions, chopped smaill
4 ounces pea shoots, rinsed
2 T. hot sauce or more
2 T. soy sauce or more
4 cups water
In a bowl mix corn starch and pepper flakes. Cut tofu into cubes and toss in corn starch mixture. Heat 2 T. olive oil in a 10 in.skillet, a wok, or large frying pan. When oil is hot add tofu and lightly brown. When almost browned on all sides add 2 T. sesame oil (or more if needed) and toss to coat. Remove from pan and set aside.
Start the water for the ramen noodles. Add noodles when boiling and cook for 5 minutes. Drain in a colander.  
Add 2 tablespoons olive oil to pan and heat to high, add mushrooms and onions. Cook for 5 minutes. Add hot sauce, sesame oil, soy sauce and ramen noodles and mix well and add tofu. Adjust sesame oil and soy sauce to taste. Add pea shoots, toss and serve.