Individual Beef Wellingtons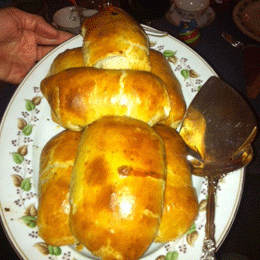 This was so delicious, we fantasize about it. I'm fantasizing right now. Mmmm.
Preparation
Ingredients
– 2 six or eight-ounce beef tenderloin filets (or lean protein), defrosted
– really good mustard
– Wild Edibles Porcini Duxelles (pricey at $13/tub, but a little goes a long way, and you'll get a lot of delectable meals out of it!)
– 4 slices Geisert Deli Ham
– 2 sheets Trader Joe's All-butter Puff Pastry
Preparation
Pull out two sheets of puff pastry to defrost. Cut each filet in halves or quarters (we did 6oz. filets in halves, and ended up eating only half, but we were on a food marathon). Spoon about a teaspoon of mustard onto a piece of the meat and rub over entire surface (it's helpful to have a helper at this point). Spoon on a similar amount of duxelles and spread over all sides of meat. Wrap in one slice of ham (half slice if you're working with quarter filets) and repeat with remaining pieces of beef.

Preheat oven to 450. Roll out a sheet of puff pastry acording to directions on box and cut in half (cut into quarters if you have made smaller portions). Wrap each swellington into the puff pastry sheet–place it at one end of the sheet, roll it over once, tuck the sides in and roll up the rest of the way, pinching the sides to seal. Place seam side down in a baking pan with parchment paper (or lightly oil the pan). Bake 15 to 20 minutes until golden brown.