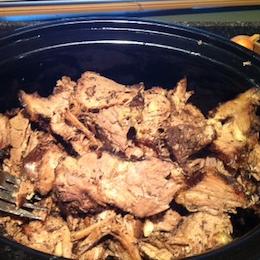 I used a variation of this recipe to create delicious, tender beef brisket in the oven that warmed the house and filled it with delectable smells. Sunday dinner delight.
Preparation
This is my adaptation of the recipe for Texas Oven-Roasted Beef Brisket from the Food Network website. It turned out delicious and I'd do it again.

Ingredients

Dry Rub
2 tablespoons chili powder
2 tablespoons salt
2 tablespoons cocoa powder
1 tablespoon garlic powder
1 tablespoon onion powder
1 tablespoon ground black pepper
1 tablespoon sugar
2 teaspoons dry mustard
1 bay leaf, crushed

4 pounds beef brisket, trimmed
1 1/2 cups red wine
 
Directions
Preheat the oven to 350 degrees F.
If the brisket is excessively fatty, you may want to trim a bit before you begin. Make a dry rub by combining all the herbs and spices. Season the raw brisket on all sides with the rub. Place in a roasting pan and roast, uncovered, for 1 hour.
Add wine and enough water to yield about 1/2 inch of liquid in the roasting pan. Lower oven to 275 degrees F, cover pan tightly and continue cooking for 4 hours, or until fork-tender.
Trim the fat and slice meat thinly across the grain. Top with juice from the pan.
Read more at: 
http://www.foodnetwork.com/recipes/texas-oven-roasted-beef-brisket-recip…