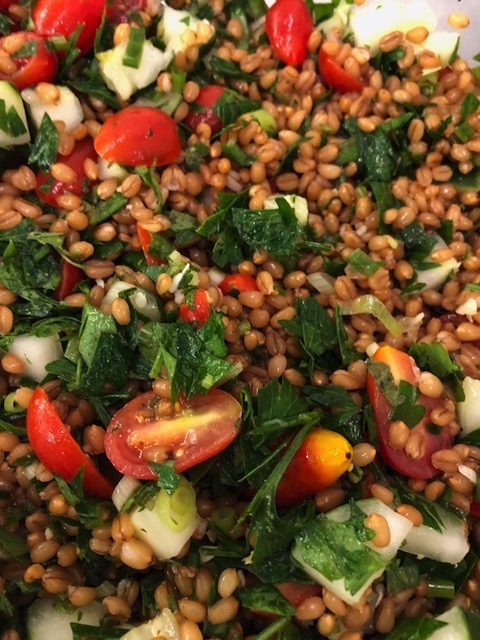 A spin on traditional tabouleh, using wheat berries in place of cracked wheat. This recipe uses all local ingredients, save for the lemon juice, salt and pepper. Good and good for you!
Preparation
Ingredients
1 c. wheat berries, soaked in water for 1-2 hours
2 medium cucumbers
1 pint cherry tomatoes, cut in half
1 slicing or heirloom tomato, diced
1 bunch parsley (~1 c.), chopped
1 handful fresh mint (~.5c.), chopped
juice of 1 large lemon (~3-4T.)
Generous drizzle of olive oil, (~2-3T.)
Sea salt and freshly ground pepper to taste
Feta cheese crumbles, ~1/2c.  (optional)
Preparation

1. Drain the soaked wheat berries and cover by two inches with fresh water. Boil 30 minutes to an hour, and test for doneness. They should be tender, but still hold their shape, so if they start exploding, they're done. They should still pop when you bite into and have a nice, chewy texture.  Drain into a sieve and rinse under cold water to cool. Transfer drained wheat berries into a medium large bowl.
2. Add remaining ingredients and stir to mix well. Adjust seasoning to taste, and feel free to add more cucumbers or tomatoes if the parsley is overwhelming to you. The sweeter cherry tomatoes can help combat the often bitter character of this herb. Serve right away.
Note: If you want to make this ahead, which can improve the flavor by allowing the lemon juice to infuse the wheatberries more, I suggest leaving out the slicing tomatoes until just before serving, to preserve the flavor and texture, or use all cherry tomatoes.