Sweet Potato, Caramelized Onion and Apple Cider Soup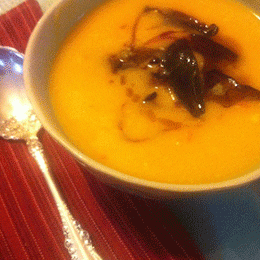 Welcome back to fall! As we get back into the cool weather, it's so exciting to enjoy the bounty of the season in a warm and comforting soup. This recipe combines a sweet trio that will make you wish you'd made a bigger batch.
Preparation
Recipe from: Soup for Every Body
by Joanna Pruess with Lauren Braun, RD, LD, Cookbook Heaven at Recipelink.com
Serves: 6 to 8
* 1 1/2 pounds sweet potatoes
* 2 T unsalted butter or olive oil
* 2 large onions, peeled and thinly sliced
* 1 cup fresh apple cider
* 1/4 cup bourbon or 1 T unsulphured molasses plus 3 T water
* 2 cups chicken or vegetable stock
* Salt and white pepper
* 2 T finely chopped walnuts, lightly toasted
* 1 T finely shredded fresh sage leaves
1. Preheat the oven to 400 degrees F.
2. Bake the potatoes until tender, about 1 hour. Set aside to cool, then peel.
3. While the potatoes are baking, heat the butter in a large saucepan over medium high heat. Stir in the onions, adjust the heat to medium, and saute until golden brown and very tender, about 20 – 25 minutes, stirring often.
4. Transfer the onions, sweet potatoes, and apple cider to a food processor and purée until smooth.
5. Return the puree to the pan, and stir in the bourbon or molasses. Add the stock to the puree and bring to a boil, then reduce heat and simmer for 3-4 minutes. Season to taste with salt and pepper.
6. Ladle the soup into heated bowls, sprinkle a small amount of chopped walnuts and shredded sage leaves in the center of each bowl, and serve. Fair Shares editorial note: Alternately, Blue Heron's Pamona's Ambrosia Apple Syrup is dreamy drizzled over the top.