Stuffed Summer Patty Pans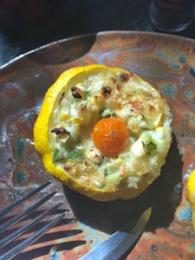 These are easy to just cut up and use like any other summer squash, but I love to scoop out the middles, stuff and bake them for an attractive little side dish.
Ingredients:
1lb. summer patty pans, rinsed1-2 small to medium cloves garlic, minced
1/4 to 1/2 c. grated cheese of choice
2 T. coconut oil
salt and pepper to taste
Minced jalapeno to taste (the one I had was super spicy, so I used only a small amount)
Green onion and basil to taste (optional)
Not all your patty pans will be appropriate for stuffing–they will need to sit pretty and level for you, and sometimes a slight trim on the bottom (stem end) of the squash will do the trick; if they won't, just use those ne'er do wells in another squash dish and move on. Carefully cut the top out of each squash and use a spoon to scoop out the center, leaving at least a quarter-inch of shell. The squash will need to be thick enough not to collapse or break when stuffed and cooked.
Chop the top and innards up with garlic, jalapeno, coconut oil, cheese, and salt and pepper. Add green onion and herbs, if desired. Stuff each squash to overfull and add a cherry tomato to the top of each squash for photo op.
Place squash on an oven sheet. Bake for 20 minutes or more at 350F, until golden and bubbling. You may also put these on the grill and cook on indirect heat.
The excess stuffing is delicious served raw on crackers, and if you want to have a not-so-juicy stuffing, you can salt the chopped squash and let it sit for 20 minutes, then squeeze out the liquid before mixing it with the other ingredients and stuffing the shells.
If you're grilling it, you may as well serve it with a barbecued chicken thigh. This one was brushed with the Barrel-aged Beer Sauce. Mmmm.