Bacon, Mushroom and Tomato Stuffed Patty Pans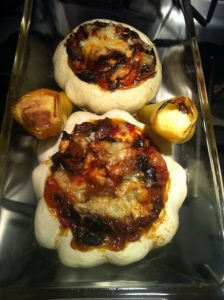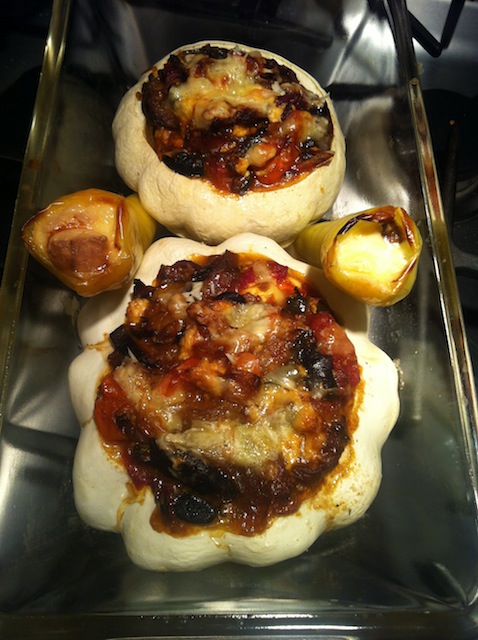 Bacon, onions and mushrooms provide the base for this tasty dish. Brighten and lighten it all up with sungolds and peppers (sweet and hot). Stuff your squash, add a sprinkle of cheese and bake to perfection for a beautiful presentation worthy of company.
Preparation
Serves 4 as a side, or 2 as a hearty one dish meal
Ingredients
2 white patty pan squash, tops cut off and insides deseeded/hollowed out. Reserve any bits of squash to add to the filling.
1/2 pound bacon or bacon ends, cut into bite-sized pieces
1 medium to large onion of your choice, chopped (tropea, red or yellow candy, whatever you have)
1/2 pound (one bag) shiitake mushrooms, destemmed and rinsed
1 pt. sungold tomatoes, halved (feel free to snack on a few as you're prepping)
1 or 2 small heirloom tomatoes, chopped
1/3c. ricotta, quark, chevre or other soft cheese
sliced or grated cheese for melting over the top (we used havarti, you might try smoked gouda or an aged cheese)
4-6 fresh basil leaves
Preparation
Prepare squash and rub cut flesh with olive oil. When hollowing out our squash, I went right through the bottom, so I went ahead and cut out the bottom and leveled out the lid to use underneath, so they both acutally sat on top of the lids. Place in a glass baking dish, sprinkle oiled squash with salt and pepper and place a basil leaf in each. Microwave on high for 6-8 minutes or until beginning to soften. Set aside. (Don't put your stuffed peppers in the pan like you see below–that was after microwaving!)
Pre-heat oven to 350F.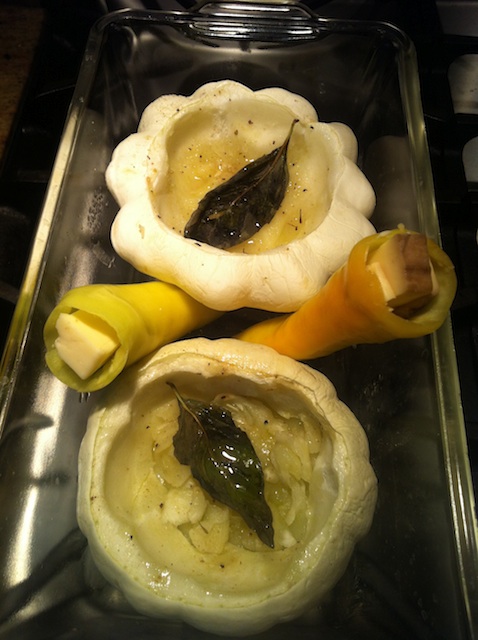 While the squash is in the microwave, saute the bacon until nearly done and drain off the fat. Add olive oil if necessary and add the chopped onion. Saute while you prep the mushrooms and add them. along with any squash pieces from the hollowing out process. This is a good time to clear the refrigerator of any stray garlic scapes that may be slithering around in your veggie drawer.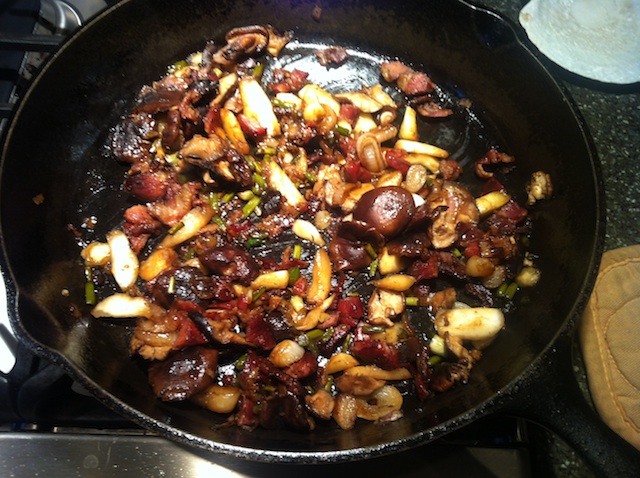 When the mushrooms are nearly done, add the sungolds and heirloom tomatoes and allow them to wilt a bit.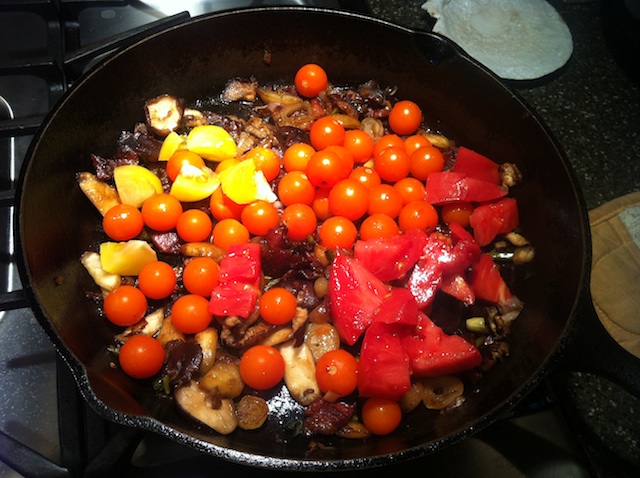 Add the soft cheese and mix. Turn off the heat.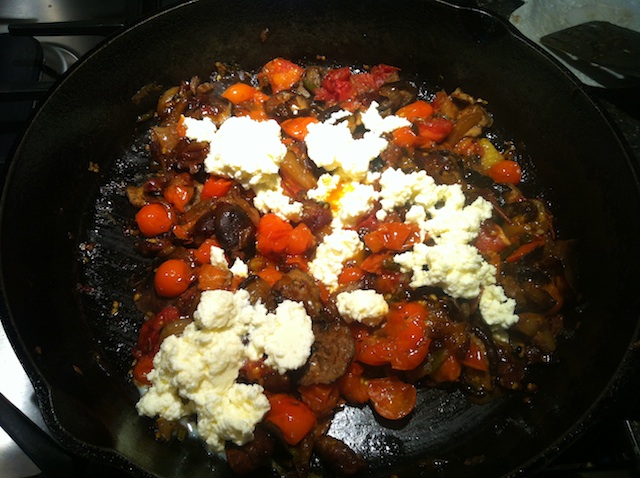 Check for seasoning and add salt, pepper and fresh basil to taste.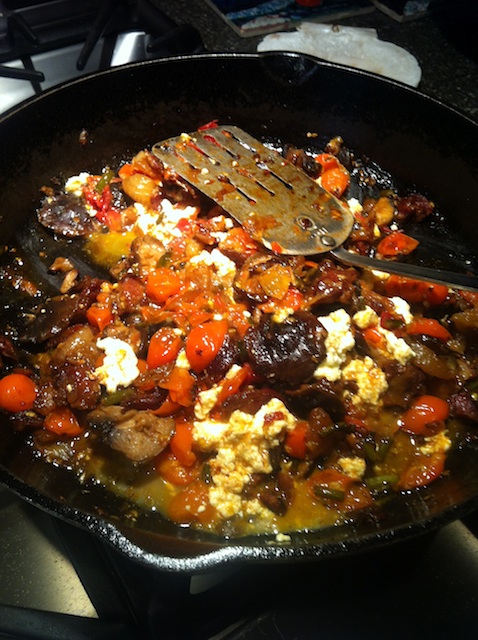 Fill the squash carefully, trying not to spill it in the baking dish. Top with cheese for melting, and go ahead and stuff those sweet banana or some hot peppers with cheese and prop upright in the baking dish.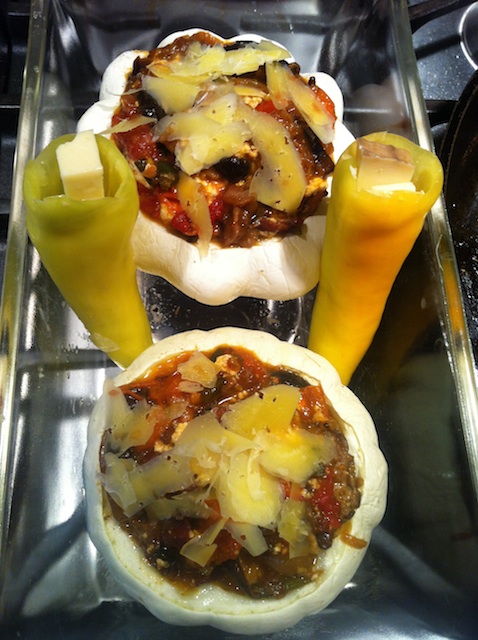 Bake until cheese is browned and stuffing is bubbling in the squash (and your peppers are done).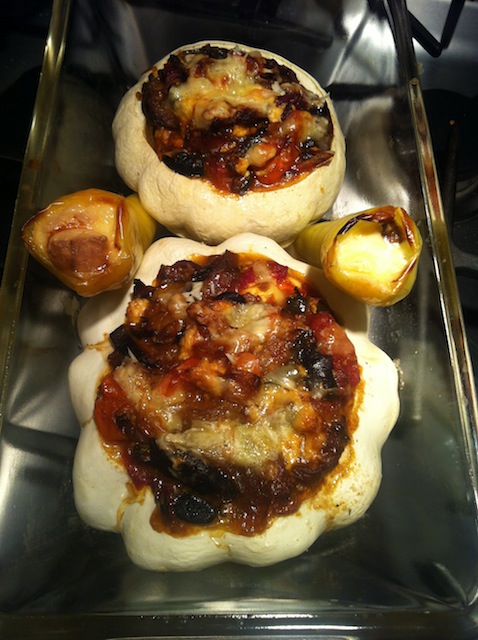 We served these up with some of my favorite salad on earth: fresh shucked corn, tomato, peach, cuke and hot pepper with balsamic vinegar and salt & pepper. Half a squash was as much as we could eat, as it was pretty rich with all the bacon and mushrooms.